FAIRVIEW G-BETS ALGOA CUP EXTRAVAGANZA
16 October 2018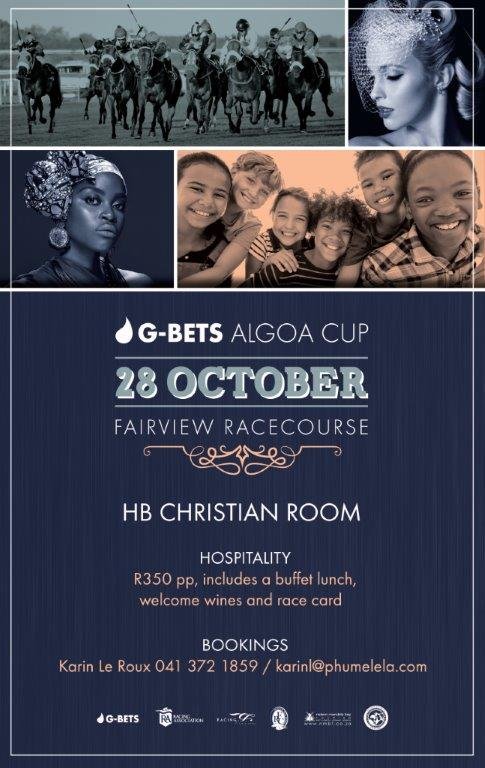 An Equestrian Extravaganza comes to Fairview Racecourse from the 26th to the 28th October and we invite families and friends to celebrate our amazing athletes with us.
We start off with the Eastern Cape Horse Care Unit Charity Raceday on Friday, 26th October. This worthy charity, and one that has been associated with us for many years services the needs of the townships within the PE, Uitenhage, Humansdorp and Grahamstown regions where education of horse and donkey owners is of great importance. Patrons will be welcomed in the HB Christian Room for just R110 per person which includes a light meal and desert.
The Racing Association Cocktail party and auction will take place after the last race. Runners in the G-Bets Algoa Cup (which will be run on Sunday) will be auctioned off and all proceeds from the auction will be donated to the charity.
Families and friends are in for a whole new experience on Saturday starting at 4pm. For only R130 per car, young and old can enjoy the sunset on "Lawns Next To The Track". The SAPS Mounted Unit will be doing an educational demonstration and there will be pony rides for the little ones. The highlight of the evening will be the screening of the fabulous movie, Seabiscuit from 7pm. You are welcome to bring your own picnic basket, but light snacks and drinks will be on sale. Tickets are available from Quicket- search for Fairview Race Course Equestrian Movie Night Experience.
For the racing enthusiast, Sunday the 28th October is a must. The HB Christian Room will be hosting a VIP Hospitality Suite which includes a buffet lunch, complimentary wines and race cards, all for R350 pp. Bookings can be made up to the 19th October and dress code is smart.
A day not to be missed- it includes top class racing, an adventure race challenge, vehicle display and giveaways. Families and friends will be treated to an array of picnic spots and food trucks to tickle their taste buds.
Further information and bookings: Karin Le Roux - Tel: 041-372 1859 - Mobile: 076 480 3739
E-mail: karinl@phumelela.com