FIVE SA COMEDY GIANTS TOGETHER ON ONE STAGE AS THE BIG 5 COMEDY SHOW RETURNS
01 August 2018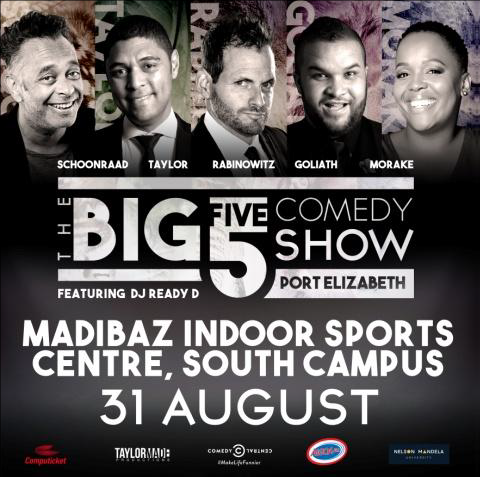 A riot of laughs with Kurt Schoonraad, Stuart Taylor, Nik Rabinowitz,Tumi Morake & Jason Goliath
They are the titans of South African stand-up comedy and they will be raising the roof when The Big 5 Comedy Show powered by Algoa FM, proudly returns to PE in August.
It's an opportunity to spot the likes of Jason Goliath and Kurt Schoonraad face off with Stuart Taylor or hear Nik Rabinowitz and Tumi Morake roar in a wild show which take place at the Madibaz Indoor Sports Centre, South Campus on 31 August. The show also features the legendary DJ Ready D who creates an electric atmosphere with his scratching and mixing skills.
Collectively these comics have some of the most impressive résumés in South Africa. From hosting TV shows and starring in movies, to performing comedy shows that pack out festivals and theatres across the globe, this is an ensemble quite unlike any other. Each comedian has achieved national and global notoriety with their unique styles and showmanship.
The Big 5 Comedy Show was a sold-out sensation last year in Port Elizabeth and all indications are that it will be another not-to-be-missed comic affair.
Says Elisca Taylor of Taylor Made Productions, who has produced the show: "We are delighted to bring audiences the biggest and best acts who are rarely seen together on the same stage. The line-up is diverse and caters to all tastes but, the one thing they all have in common, is that they are all industry giants. The Big 5 is such an iconic and uniquely African and South African concept. It represents that which is most sought-after. And that is what we are creating with this show."
The Big 5 Comedy Show powered by Aloga FM is supported by the Department of Arts, Culture & Heritage and Comedy Central, and takes place at the Madibaz Indoor Sports Centre, South Campus on Friday, the 31st of August at 8pm. Tickets are available at Computicket and cost between R250 – R100. A limited amount of student tickets are available at R75. The show is rated PG 16. Big 5 Comedy
Show social media:
Facebook: Big 5 Comedy Show
Twitter: @big5comedyshow
Instagram: Big5ComedyShow
Hashtag: #big5comedy
Media queries: BIG MOUTH ENTERTAINMENT
Ranique Roberts ranique@bigmouthentertainment.co.za
Tel: 074 754 1596