Jazz'afro Nmu Student Jazz Bands
05 June 2018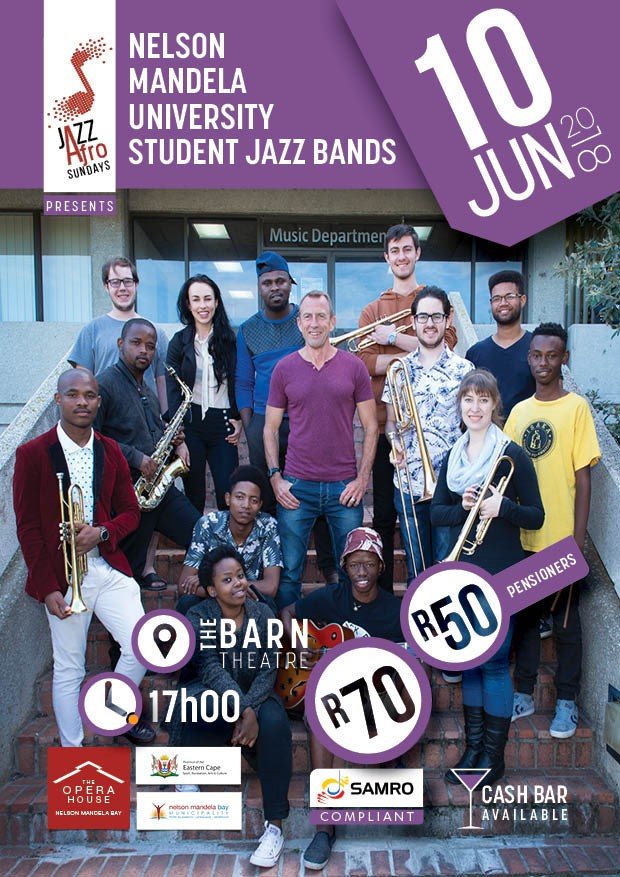 The second of our Youth Month performances at the Jazz'Afro Sundays stage will be two Nelson Mandela University Jazz Students ensembles.
Both of these ensembles will feature a diverse group of Jazz students ranging from first to final year. Several of the students namely Temba Ncetani, Hezron Armoed and Elviro Vrolik are already performing professionally throughout the Bay and have also featured at the National Arts Festival and other notable live performance venues. Jazz Studies Lecturers and ensemble leaders John Edwards on Piano and Curtis Kettledas on Alto Saxophone will also perform a couple of numbers with the bands. There will be a special guest performances by former students such as Kyle du Preez on trombone.
The bands will present repertoire that is representative of a variety of jazz styles including Afro-jazz, Salsa, Swing and jazz-rock. There will be some student compositions featured as well as familiar works by legendary Jazz musicians Feya Faku, Winston Mankunku, Abdullah Ibrahim, Duke Ellington, Dave Brubeck and Herbie Hancock. It will interesting to hear how these young talented budding musicians from Nelson Mandela University will treat some of the much loved Jazz classics.