Jazz'afro Sundays @ The Barn Presents Siki Jo-An
20 April 2018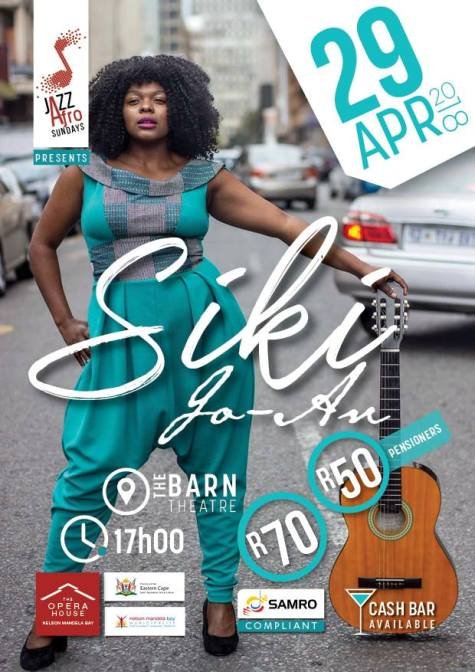 Sikelelwa Jo-An Qwazi, is a multi-talented artist hailing from the dusty streets of Kwa-Zakhele, Port Elizabeth, South Africa. This is where her love for the art and stage began where from a young age she began performing with a local traditional dance group, moving onto to singing and eventually she became an actress. Siki Jo-An, is a musician, who sings African Soulful music with a fusion of Operatic Jazz and plays guitar and Keyboard. Her artistic style, expression and image embody her abilities, aspirations and achievements as a musician, writer, theatre maker, actress and creative thinker. She is inspired by the Xhosa culture, the Township lifestyle, experiences that have both directly and indirectly affected her. A Rhodes University Bachelor of Arts graduate, where she studied Music and Drama. She specialized in Classical Vocal Art studies, Physical Theatre, Acting and Creative Writing. Siki Jo-An recently relocated to Johannesburg, where she is currently studying at the Duma Ndlovu Acting Academy, she also works as an online English teacher and a Performing Artist.
Her live performances include corporate gigs hosted by various governments and also for The Swallows Foundation. She has performed at the Grahamstown National Arts Festival, Standard Bank Jazz Festival, Iphulo Performing Arts Festival, Women In Arts Manyano, Yiyo Summer Festival, Thunya Lerole, young choreographers in action festival. She has been part of Ignite by Lindelani Mkhize since 2016. She recently performed at the PE Opera House, Johannesburg Theatre, Moses Mabhida Stadium in Durban, at much loved live performance venues Baseline, Nikis Oasis Jazz Restaurant.
Siki Jo-An has shared stages with Family Voices from Zimbabwe, and the cream of South African talents such as Zahara, Simphiwe Dana, Amanda Black, Titi Luzipo, Zoe Modiga, Judith Sephuma, Ringo Madlingoz, Nomfundo Xaluva, Brenda Mntambo, Unathi Mzekeli, Nelisiwe Sibiya, Lubabalo Luzipo, Brown Sugah working with the renowned music producer Mr Lawrence Matshiza.
Sikelelwa Jo-An Qwazi appeared on the following media platforms
SABC Mzansi Insider April 2018, SABC Digital News April 2018, SABC 3 Mama Winnie Madikizela Musical Tribute April 2018, SABC 1 (2017) INGITE Show, Front Page article, Herald newspaper (2017) . The weekend post. (2017) Bay Fm 2017. SABC 3 Top billing (2016) Tswane TV (2015), Oppidan TV (2015) Oppidan Press (2015) Drum Magazine (2016) Rhodes Music Radio and Radio Grahamstown.
On Sunday Siki Jo-Anwill be accompanied by her band comprising of Nelson Mandela Bay's finest on Piano Lubabalo Luzipo, on Bass guitar Temba Ncetani, on Violin Sihle Kakancu;
On Saxophone Phakamile Msizi; Drums- Sakhi Nompozolo on Backing vocals Siya Koyo & Cwayita Moya; legendary Lawrance Matshiza on Guitar with Mbulelo Mazibuko on percussions.