Life's a beach in the Bay
03 May 2012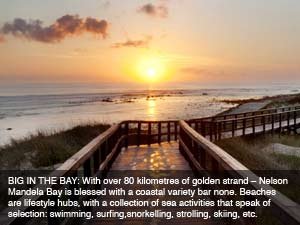 BEACHES are big in the Bay, no doubt about it, and with over 40 kilometres of golden strand Nelson Mandela Bay is blessed with a coastal variety bar none.
Thousands of tourists and locals alike flock to the city's beaches and the extra long summer season allows for full use of the beachfront for almost six months. It is easy to see why the city has been unofficially dubbed the Watersports Capital of Africa.
"It's sometimes hard to explain how Nelson Mandela Bay's beaches are one of its icons – it's not like we have chosen one beach that is the space in the city that defines our seaboard," said Titus Chuene, Nelson Mandela Bay Tourism marketing manager.
"But when one looks at the diversity of the city's beaches and the range of variance it's easy to see how every taste in sandy strip is catered for in the Nelson Mandela Bay."
Radiating from the centre of the city are many of the Bay's best swimming beaches: Kings Beach, Hobie Beach, Humewood Beach, Pollock Beach, Denville Beach. Pulsing out further afield are a number of more secluded or wild beaches including Sardinia Bay, Maitlands, Wildside, Blue Horizon Bay, St Georges Strand, Kini Bay, Bluewater Bay, Beachview, and Schoenmakerskop.
Beaches are lifestyle hubs – and culminate in a collection of shore and sea activities that speak of selection: surfing, snorkeling, strolling, skiing, sandboarding, diving and horse riding.
"Nelson Mandela Bay's beaches are the ultimate city icon for leisure and pleasure," said Chuene. "No matter what kind of beach experience one is looking for – from sunbathing to swimming, clambering over rocks, fishing, playing beach sports or just walking for miles, our beaches offer it all and even more.
"Sardinia Bay has sand dunes and horse riding and a sense of untamed wildness, not to mention the Wurstwagen. Kings Beach is a centre for beach and water sports. Humewood, Hobie and Pollock are great for lazing in the sun and swimming.
"Whether you are local or visiting, the beaches are iconic of the lifestyle we live in Nelson Mandela Bay."
Life's just beachy in Nelson Mandela Bay.