Nelson Mandela Bay Travel Guide App
01 June 2014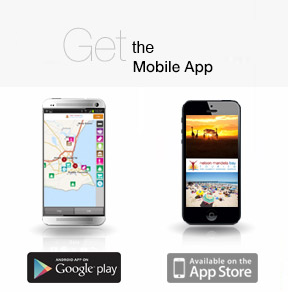 Nelson Mandela Bay Tourism has teamed up with Cape Town-based travel technology innovator Tourism Radio (http://www.tourismradiocityguide.com) to produce the Official Travel Guide to Nelson Mandela Bay, a mobile travel guide application for iPhone and Android devices aimed promoting tourism in the region to tech-savvy travellers.
The Official Travel Guide to Nelson Mandela Bay application serves as a constant source of information for local and international visitors alike as it sits on their mobile device and can be easily accessed at any time with the touch of a button.
By 2015, worldwide smartphone device sales are estimated to double to approximately 982-million units, and 30% of travellers already use their mobiles as their exclusive source of travel information.
We at Nelson Mandela Bay Tourism are looking to showcase the best that our region has to offer through the Official Travel Guide to Nelson Mandela Bay, and we'll be including some of the best known attractions and tourist hotspots in the area.
The app has various attractions and facilities listed and once you are within range of one of the listed points of interest with your gps enabled device an audio guide is activated telling you about the attraction. It can also be manually activated.
From the app one can also share a postcard or photo's of the attraction and share it via e-mail, and other social media such as Facebook. What makes the NMB app unique is the fact that we included most of the Route 67 artworks in a seperate guide on the app that can be used as a guide while walking the route.
The Nelson Mandela Bay Travel Apps can be downloaded from here:
Android:
https://play.google.com/store/apps/details?id=com.hummba.guide.nelsonmandelabay&feature=search_result#?t=W251bGwsMSwxLDEsImNvbS5odW1tYmEuZ3VpZGUubmVsc29ubWFuZGVsYWJheSJd
Apple (IOS):
https://itunes.apple.com/za/app/travel-guide-to-nelson-mandela/id645483440?mt=8
Windows:
https://www.windowsphone.com/en-us/store/app/nelson-mandela-bay-guide/1e282f57-2d57-4756-8a07-593acbfac845