NMBT INVITES MEMBERS OF THE PUBLIC TO FREEDOM DAY INSTAMEET
26 April 2016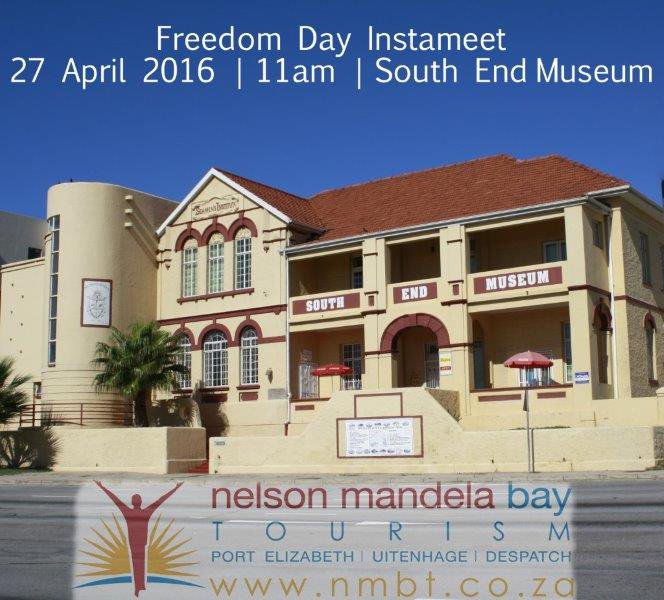 In celebration on Freedom Day Nelson Mandela Bay Tourism (NMBT) invites members of the public to the Freedom Day Instameet that takes place on Wednesday, 27 April 2016 at the South End Museum.
Taking place from 11am at no cost, the event aims to showcase the culture and heritage of Nelson Mandela Bay. In attendance will be national blogger, Anje Rautenbach who writes the travel blog, "Going Somewhere Slowly" together with other local bloggers, photographers, tourism stakeholders and members of the media. The event will include a walk through the museum and the sharing of stories and photographs about the history of the area.
Having come full circle and symbolising the society that South Africa once was before Apartheid, South End Museum is an apt venue to celebrate this monumental day as it portrays a society a movement and a recovery that is symbolic of the struggle and victory of South Africa as a whole. It pays homage to the values of the old South End suburb and the people that made it the vibrant environment it was back then.
"The aim of this special event is to start conversations about our destination, share and discover heritage and of course contribute to doing something unique which is easily accessible and for anyone to participate. We look forward to the unique adventure in celebration of Freedom Day," said Mandlakazi Skefile, Chief Executive Officer of NMBT.
"Freedom Day is a day when all of us need to stop and reflect on our past, to remember the heroes and heroines who brought us freedom - those who made it possible for all South Africans to enjoy the benefits of democracy and for all of us to prosper in conditions of peace and stability. It allows us to acknowledge the role played by different South Africans from different sectors in contributing towards the construction and development of our society, building social cohesion and accelerated shared growth and this event aims to showcase the road we have travelled as NMB," said Skefile.
On this day we choose to celebrate and live the values of what our destinations name sake, Nelson Mandela believed in. These include the freedom, democracy, fairness and unity among all.