PLENTY OF BEACH ACTION THIS SUNDAY
14 January 2015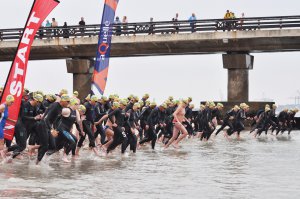 With the open water swimming season starting to peak, a large number of swimmers will be expected to attend the 7th round of the aQuellé Ocean Racing Series(TM) at Hobie Beach this Sunday. With the SPAR River Mile Festival taking place in less than a months time and followed a week later by the epic 5km Jendamark Bellbuoy Challenge, local swimmers will look to use Sundays 3km and 1km Ocean Swims are the ideal training events.

Fortnightly, the Series attracts an average of around 450 participants to this unique family beach event which sees no fewer than 6 events taking place simultaneously on alternate Sunday mornings offering participants from around the country the opportunity to take part in a 5km Beach Run, 5km Beach Walk, 3km Ocean Swim, 1km Ocean Swim, 3km SUP race or for children 12 years and under (some as young as 2 years), a 1km Beach Run/Walk.

"It's that time of year when the open water swimmers and triathletes are putting in final preparation for upcoming events and championships and we usually see a substantial increase in the two swimming disciplines at the aQuellé Series, " said Series owner, Michael Zoetmulder of Zsports Events NPC, a non-profit company transforming sports in the Eastern Cape. "With just two Series race days before the Jendamark Bellbuoy Challenge, we can expect several open water swimmers from up country coming to use the 3km swim as a qualifier."

Competition on Sunday is expected to be fierce as the overall Series standings start to take shape. Leading the challenge in the 3km Ocean Swim at the moment is veteran surf swimmer Bradley Reen whose consistincy on the podium has put him up front ahead of 3 times winner Daniel Jones and newly crowned EP 10km swim champion Dylan Smith. With 4 races remaining in the Series, Reen is going to find it hard to stay within the medals as Jones' eldest sibling, Jason, is also in contention lying 4th overall at the moment but from only 3 races which saw him win one and place 2nd behind his brother in the other two.

Most the swimmers preparing for the SPAR River Mile will be expected to contest the 1km Ocean Swim which currently sees 17 year old Joshua Bellairs leading the standings. Like Reen, consistency has paid off and pushed Bellairs to the front but Wayne Jones, having won 3 of the 5 races so far this season, will be the man to watch for overall honours whilst within the ladies division there is a clear leader in Brigitte Muller who in her first ocean swim series has remained undefeated.

Whilst the leaderboard for the swim is still wide open, the Series overall champions for Season 10 in two of the beach disciplines have almost been sealed with unbeaten performances from 15 year old Dylan Finlay (Men's 5km Beach Run) and Milé Vermaak (Ladies 5km Beach Walk). In the ladies 5km Beach Run, it's the tussle of the teenagers as 13 year old's Samantha Perelson (leading), Megan Snyman (2nd) and Saskia Wait (4th overall) contend the overall standings with 15 year old Ntandokazi Baxana who is currently in 3rd place overall.

On the beach, there's no stopping the teenagers this season as 13 year old Megan Snyman and 15 year old Dylan Finlay continue their domination of the 5km Beach Run. On Sunday Finlay beat Somalian Abdi Richter with Matthys Swart placing 3rd as Snyman beat Cape Townian Joanne Pratt and PE's Annemieke Mock to the line. In the 5km Beach walk men's division, Colin Korkie leads the standings from Johan Ferreira and 83 year old Quentin Vermaak with Juan Slabbert, currently lying 4th overall expected to dominate the remainder of the Series having already scooped 3 wins and a runners up medal.

Series races start from 9am on Sunday morning at Hobie Beach, registration opens 7.30am and lucky draw prize giving kicks off at 10am with a separate prize giving for kids 12 years and under. See www.oceanracingseries.com for further information.