POPULAR TRIATHLON SERIES RETURNS
04 December 2013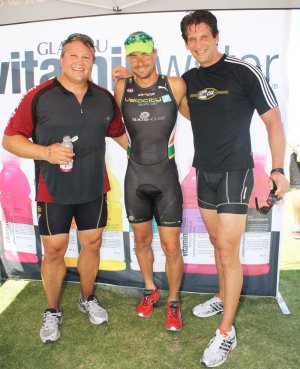 The popular About IT Triathlon Summer Series, a 3-part sprint distance triathlon Series, returns to Nelson Mandela Bay on Monday 16th December and Sunday 22nd December with the first round being the unique Summerstrand to Schoenmakerskop Triathlon.
Hundreds of triathletes from around the country use the About IT Triathlon Summer Series as a great end of season training session with over 100 individuals expected to take part in Round 1 on the 16th which sees the triathletes completing a 750m swim off Pollok Behac, a 20km cycle to Schoenmakerskop and completing this sprint distance triathlon with a 5km run along the Sacramento Trail which takes them from Schoenies through to Sardinia Bay and back again.
"The Triathlon Summer Series has been around for over a decade and each year it grows in popularity, last year saw a great growth in the number of teams competing and this year we've introduced a kids triathlon on the evening before to encourage youngsters to become involved in this awesome sport," said Series organiser Mike Zoetmulder of Zports. "The sprint distance offers an exciting introduction to the swim, cycle, run combination sport and is achievable for most novice fitness enthusiasts."
A Kids triathlon for children 15 years and under will take place at Pollok Beach at 6pm on Sunday 15th and on Saturday 21st December. Distances for the kids 11 years and under will be a 100m swim, 2.5km cycle and 1km run whilst the 15 and unders will do a 200m swim, 5km cycle and 2.5km run.
One of the more famous celebrities to compete in the Series each year is SA rugby legend Ollie le Roux who last year competed in the Series with close friend and former World pole vault champion Okkert Britz. Le Roux is confirmed to compete again this season as he holidays in St Francis Bay.
About IT, the naming sponsors of the Series, are a national company offering tailor-made Information Technology solutions and have keenly invested in the promotion of triathlon in the region with a three year sponsorship of the Series. The Triathlon Summer Series With a local branch that is very active in the sporting scene, About IT are excited to be associated with the Triathlon Summer Series which offers elite and social participants the opportunity to get out there and have fun this December.
The first 200 adult participants to register online (www.trisummerseries.co.za) will each receive a 2013 quick dry Series Shirt. Non licensed triathlete's are required to pay a once-off Series temporary license of just R70 which will cover them for all 3 race days. Participants are welcome to compete in one or more of the events, online registration will cover the first race day irrespective of which one that will be.
Whether you swim, bike or run, register now for the About IT Triathlon Summer Series and have some fun this December!