Red Location's bold tribute to South African heroes
29 May 2012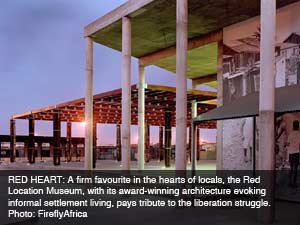 RED – the powerful and symbolic colour of life – is pervasive at the one of the few township-based museums in South Africa, the Red Location Museum, and the bright, proud colour speaks volumes of both the history and the contemporary capturing of moments and struggles past.
The museum rises out of the ashes of Red Location in New Brighton where the first Umkhonto we Sizwe branch in South Africa was started as well as the first Defiance Campaign arrests.
"A stark reminder of days past, the museum pays tribute to the liberation struggle against apartheid and stands for the values of love, reconciliation and hope for the future," said Mandlakazi Skefile, Nelson Mandela Bay Tourism chief executive.
This is one reason city residents voted it into the top ten of a recent NMBT campaign to identify the city's most loved icons. Red Location is a permanent reminder of the past and a vision for townships of the future – exhibitions, book launches, conferences, events, art, history and heritage. Unconventionally stark but spacious, the Red Location Museum incorporates the corrugated iron theme of informal settlement living to include a series of memory boxes consisting of twelve lofty free-standing galleries which house a diversity of photographic and art exhibitions.
Adjacent to the museum structure is an incredible art gallery and, across the way, an innovative library which will house a special copy of the ANC's 1955 Freedom Charter in its airtight document vault. It will also be the first African digital library on the continent.
"The Red Location precinct and museum holds pride of place as one of the city's best loved icons. It is great significance to the people of Nelson Mandela Bay and South Africa as a whole. It takes the struggles of the apartheid years and stows them away in incredibly vivid memory boxes that serve as a testament to our inherent desire to overcome oppression and adversity," said Skefile.
In the museum, visitors are invited to an engaging journey through the Memory Box seemingly aloof and yet bound by the same themes of struggle, reconciliation and love.
Winner of numerous international awards, the Red Location Museum was designed by applauded architect Joe Nero.In June 2006 the Red Location Museum was awarded the Royal Institute of British Architects' inaugural Lubetkin Prize for the most outstanding work of architecture outside the UK and Europe, beating stiff competition from the Canadian War Museum in Ottawa and the Terrence Donnelly Centre in Toronto.
The museum also scooped for its city, the 2005 World Leadership Award for architecture and civil engineering, and the Nelson Mandela Bay Municipality Dedalo Minosse International Prize for Commissioning a Building, 2005/6.
The museum currently also holds exhibitions of contemporary art by home-grown artists and has engaged numerous writers and opinion leaders in public debates about social issues that affect South Africans of all walks of life. The Red Location Museum is fast-developing centre for creative arts.