RIVER MILE LAUNCHES WATER-BASED WEEKEND FUN
06 February 2015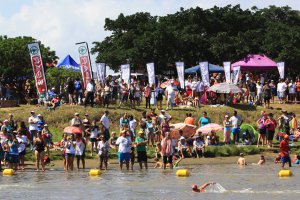 The 91st edition of the SPAR River Mile will offer a full weekend of water-based action and family entertainment when it launches on the Sundays River just outside Port Elizabeth on February 14 and 15.
The festival attracted more than 6 000 visitors last year, with over 7 500 expected for the 2015 event, which once again takes place at Cannonville.
This year, former Idols winner Heinz Winckler will anchor the entertainment aspect with a riverside concert at 3pm on the Saturday. He will be supported by PE-based reggae band The Brothers.
Continuing the celebrity trend, Mr PE André Fourie will join the EP Kings rugby team for a celebrity splash across the river before the serious swimmers take to the water for Sunday's feature races – the SPAR Ladies' Mile and SPAR Men's Mile.
Also on the Sunday, well-known mentalist and illusionist Larry Soffer adds his special brand of magic to the prize-giving ceremony at 3pm.
According to event organiser Michael Zoetmulder, the festival – which drew 1 600 participants last year – is the only one of its kind nationally that combines world-class sporting events with an affordable, family-friendly festival.
He said there would once again be a full line-up of races for swimmers of all ages and abilities, starting with the family half-mile, Speedo wetsuit double mile and disabled mile on day one of the festival.
"New to this year's programme and a first in the Eastern Cape is a super-sprint distance triathlon relay, which is ideal for anyone wanting to attempt a triathlon for the first time.
"It also encourages families to get involved as it's mixed teams of three."
On day two, he said the Wakaberry kids' races for children 12 years and younger would precede the feature events.
"We'll also have plenty of food and craft stalls and the supervised Rotary Kids' Zone to keep the children entertained."
SPAR Eastern Cape marketing manager Abri Swart said the retailer had been involved with South Africa's oldest open-water swimming event for the past 16 years and had helped it to grow.
"Our affiliation with the River Mile is synonymous with the SPAR culture of family, fun, fitness and a healthy lifestyle.
"We remain committed to making a contribution to the community by supporting events of this nature."
Early bird entrants will receive a River Mile T-shirt and goodie bag and enjoy free entry to the festival on race day.
Festival gates open at 8am daily and entry costs R20 per person, while children under 10 are free.
Enter at www.rivermile.co.za or find SPAR EC in Action on Facebook for more information.