Something for everyone during the season of treasures
05 December 2018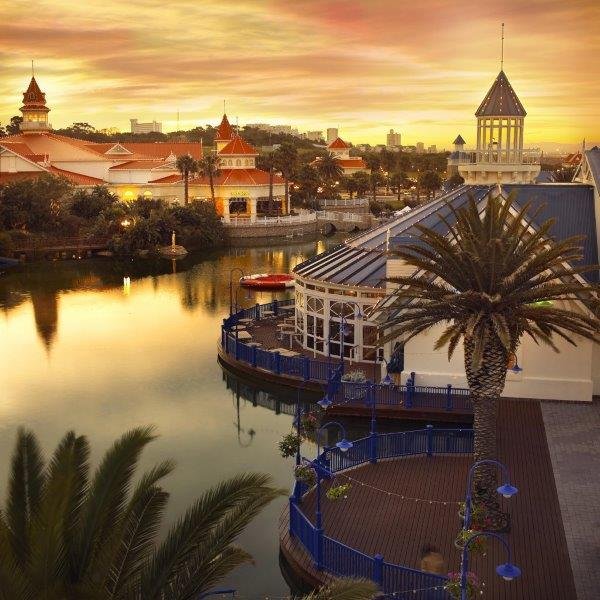 The Boardwalk, a premier entertainment hub in Port Elizabeth, boasts a jam-packed itinerary of events, shows and promotions over the upcoming festive season. During the season of treasures, there is something for the whole family. True to its promise to deliver quality shows and entertainment to The Bay, The Boardwalk has an exciting line-up of events during the holidays.
Kicking off the festive lineup this weekend (1 December) is a one night only concert featuring international 80s and 90s' singing sensations, Sybil and Judy Boucher. Performing under African skies on the Festival Lawns, they will be supported by homegrown talent including DJ Eazy E, Chapter THREE and Melissa Allison. Cape Town's maestro Camillo Lombard and band back off of the acts. The event will commence at 16h00 and will run for six hours. Tickets are on sale at Computicket, with Golden Circle tickets priced at R450 and General Standing priced at R250.
On 14 December, it is the annual Sparkler event around the lake at The Boardwalk between 19h00 and 20h00. The community is invited to light up the skies with a sparkler or a lighter and then watch the ever popular Boardwalk Fountain show and join the Christmas Carols' singing. Sparklers and lighters will be on sale at R20 each. All proceeds will go to local charities.
On 15 December, well known local ensemble, ChapterTHREE returns to The Boardwalk with an all new holiday show, #Christmas in the Bay. The band will perform an array of festive songs, from traditional Christmas carols to modern party songs, making it treasure time for the whole family. Tickets are R100 per person. Contact 041 365 0217 or 083 357 1960 to book. The show at The Boardwalk Amphitheatre will start at 20h00.
From 16 to 22 December, there will be an entertaining puppet show for the little ones to enjoy. The puppet show organised by The Boardwalk in conjunction with Obed Productions will be at 12h00 until 13h00 in The Boardwalk Amphitheatre. Tickets cost R20 each and proceeds will go to charity.
On 23 December, the ultra-classy Ian von Memerty – of Strictly Come Dancing, SA's Got Talent and A Handful of Keys fame – reluctantly teams up with the unashamedly Philistine from De Aar, Gino Fabbri for an outrageous musical comedy, Common and Class. The uncommon combustible clash of breeding and culture pits drummer-comedian Fabbri's dynamic drumming and guitar-playing against Von Memerty's pyrotechnic piano-ism, resulting in a roller-coaster of musical contradictions. Tickets cost R140 at Computicket.
ABBA mania is in the air once again as Centrestage pays tribute to the super swinging Swedes from Stockholm in their hit production, ABBA: Here We Go Again, on 27 and 28 December 2018. Fronted by vocalists Tara-Jane Stern and Caron Strydom, along with Kerry Hiles and Kerry-Lee Jeffrey, this perennial favourite feel good revival sold out 3500 tickets at the Opera House in Port Elizabeth earlier this year. The performances start at 19h30 on both nights. Tickets cost R160 at Computicket.
Fans of Adele and Michael Bublé can look forward to a very special treat when talented Port Elizabeth performers, Robynn King and Thuba Myeki, pay tribute to them at The Boardwalk Amphitheatre in the Centrestage production, Chartbreaker Heartbreakers on 30 December 2018. Tickets cost R140 each at Computicket or by calling Wendy on 082 661 6921. Groups of eight or more can enjoy a discounted price of R120 per ticket.
Santa is making a turn at The Boardwalk in December 2018 to meet his young followers. Children can have their photographs taken with the man himself at the Craft Workshop and also drop off their Christmas wish lists in the Santa Wish List box to stand a chance of winning a gift card worth R500. Wish lists can be posted into Santa's Wish List Box and Santa will be available for photographs from 12h00 to 16h00 daily between 10 and 23 December. As always, there is a ton of festive fun to be had at The Boardwalk over the holidays. Children can enjoy a host of activities at the Craft Workshop from 12h00 to 16h00, from 10 to 23 December.
Holiday packages are available for Kids Corner where children can enjoy a host of supervised activities while their parents have some grown-up fun. Open from 08h00 daily, there are planned activities to entertain children from 09h00 until 17h00. Activities include arts and crafts, picnics, cupcake and biscuit decorating, colouring-in competitions, movies and other fun indoor entertainment. The cost is R100 for four hours and R150 for six hours, including a snack.
Other family styled activities at The Boardwalk include:
Speedway Go-Kart Track – an action-packed grand prix track for emerging speedsters situated behind Vodacom Amphitheatre. Minimum heights apply. Trading hours: 15h00 to 23h00 on Fridays. 10h00 to 23h00 on Saturdays and Sundays.
The Magic Company - an amusement arcade with the latest computer and simulation games. Kids can choose from go karts, mini golf, bumper boats and a 3D/4D motion theatre. Trading hours: 10h00 to 22h00 from Sunday to Thursday. 10h00 to 00h00 on Fridays and Saturdays.
Adventure Golf - enjoy nine holes of adventure golf in tranquil surroundings with caves and water features. This is guaranteed fun for the whole family. Trading hours: 15h00 until late on Fridays and 10h00 until late on Saturdays and Sundays.
Nu Metro – Nu Metro at The Boardwalk boasts five plush theatres featuring the latest blockbusters, stadium racked comfortable seating, 3D screens and digital sound. This is the only 3D movie complex on the PE beachfront. View Nu Metro's website for show times and to find out what's on.
The Lighthouses Ten Pin Bowling – offers 16 lanes of ten pin bowling, 14 pool tables, and a bar and lounge area with big television screens showing MTV and sports. Trading hours: Monday to Sunday from 09h00 until late.
Amusement park – children enjoy a range of kids' rises including a Victorian style carousel, a jet ride, modern day shooting star, pirate boats and more. Trading hours: 15h00 to 23h00 on Fridays, and from 10h00 to 23h00 on Saturdays and Sundays.