SPAR RIVER MILE ENTRIES OPEN
17 December 2014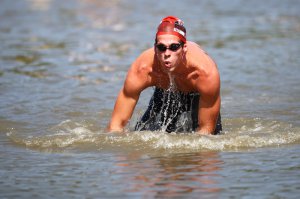 Entries for the 91st SPAR River Mile taking place on the 14th & 15th February next year are open. One of the Eastern Cape's traditional family events and South Africa's oldest open water swimming event is set to attract thousands of people to the banks of the Sundays River once again. The traditional Men's and Ladies River Mile are just two of the many events which will form part of the 2015 Festival which features entertainment from top SA singer Heinz Winckler and world renowned mentalist Larry Soffer.

The packed weekend of activities will start with the Wimpy 5km family fun run and be followed by a brand new event to the Eastern Cape, the triathlon super sprint team relay event which is open to mixed teams of 3 people where each team member completes a 250 swim, 6km MTB and a 1.6km run in relay fashion. The event, sanctioned by Eastern Province Triathlon, is a great inclusion into this family weekend and a great opportunity to get involved in multi discipline events. The Saturday afternoon hosts the family half mile swim, the disabled mile swim and the Speedo double Mile wetsuit swim before Heinz Winckler takes to the stage for a Valentines Day treat.

Sunday's program starts off at 11am with the Wakaberry Kids across the river races for children 12 years and under who aren't doing the Mile race. Not to be missed will be the Celebrity swim-off between some of our burly EP Kings rugby stars at 1pm. The SPAR ladies mile takes place at 1.15pm followed by the men's mile at 14.15pm before one of the world's top magicians and mentalists, Larry Soffer, hosts the prize giving ceremony for the 91st River Mile.

The nominated charity for the event is Cleft Friends and the Smile Foundation under the banner of 'Swim a Mile for a Smile' and participants are encouraged to get friends and family to make donations on their behalf.

Early bird discounted entries are available until the end of December with Mile and double Mile entrants who register before the end of this month receiving a complimentary River Mile t-shirt. The normal entry fee kicks in from 1st January and increases to late entries from 1st February. See www.rivermile.co.za to secure your early bird entry.