Springbok Nude Girls APRIL 2018
10 April 2018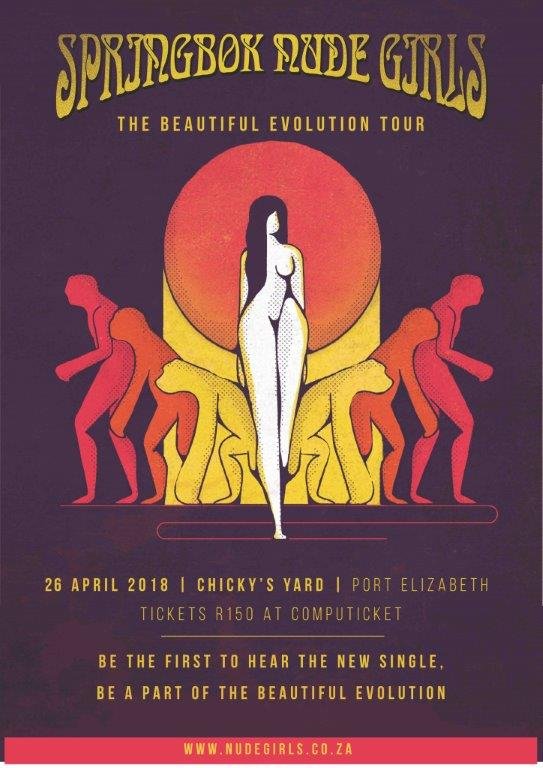 Through a series of serendipitous events in the early 90's in the small wine making town of Stellenbosch, Arno Carstens, Theo Crous, Adriaan Brand, Arno Blumer and Francois Kruger became The Springbok Nude Girls.
Little did they know that they would go on to become one of the most loved rock bands South Africa has ever seen, known for their high energy stage shows and unique musical sound which combines Punk, Reggae, Metal, Funk and Jazz.
They played their first gig in September 1994 in a small bar in Stellenbosch and released their first album, "Neanderthal 1" the following year.
Since then, this platinum selling, award winning band have gone on to record albums that contain some of our countries most beloved anthems. They have headlined every major South African music festival, and performed at some of the most auspicious international festivals in Europe.
In 2015, Thinking Owl Films, in association with Sony Music Entertainment Africa, released an exciting documentary film which tells the story of the band's early beginnings, touching on the crippling censorship of that time, and then the liberation of 1994 and how, for these kids, there was finally freedom in music.
Twenty four years after their first show, and two decades after the release of "Blue Eyes", the song that redirected the trajectory of the band, 2018 marks the year where it all comes full circle. The band are going back to their roots, and releasing their music independently. This is what the fans have been waiting for: unpolluted, powerful, real and rampant; as they were then, they are now.
The first single, "Beautiful Evolution", is a driving anthem that examines the paradox of human progression and hypothesizes that to halt mortal degradation one must look to and take lessons from the past. It's an ironic call to action:
It's a beautiful piece of evolution
So many problems with no solution
Be kind, be kind, be kinder than kind
Unwind
"Beautiful Evolution" will be released exclusively on just 60 x limited edition signed 7# vinyls, with the savage sounding "Best Friends, Best Enemies" exploding onto the B-side.
This exclusive vinyl will only be available through the 60 VIP concert ticket packages and full details on how to get your copy are available on www.nudegirls.co.za
"Beautiful Evolution" will be released digitally mid May.
The single will be launched live at their nationwide 6 date tour:
26 April 2018
Chicky's Yard Port Elizabeth
Tickets R150 at Computicket
https://online.computicket.com/web/event/springbok_nude_girls_live/1204847239/589645367
27 April 2018
South Coast Boke Festival Margate
Tickets R60 – R150 at Quicket
30 April
Hillcrest Quarry Durbanville
Tickets R150 at Webtickets
4 May 2018
District Cape Town
Tickets R150 at Webtickets
5 May 2018
Carfax Johannesburg
Tickets R150 at Webtickets
6 May 2018
Rusty Hook Johannesburg
Tickets R150 at Webtickets
The band are offering 60 x Exclusive VIP packages, 12 per show:
VIP Package (Admit 1 – R1000)
The new single on a 1/75 collector's item, numbered & signed 7# vinyl
A VIP ticket with welcome drinks at the band's sound check
A private VIP performance of the new single at sound check
A meet and greet with the band after sound check
A VIP area at the show, where you will enjoy the performance with the band's guests
You will star in the band's official Beautiful Evolution Fan Music Video. Your footage, filmed on your Smart Phone, during the build-up to the show and your experiences getting ready, getting there, first drinks, sound check, as well as your experiences at the show, will be edited into the Official Fan music video of the track and released on YouTube
VIP Package (Per Couple – R1750)
The new single on a 1/75 collector's item, numbered & signed 7# vinyl
A VIP ticket with welcome drinks at the band's sound check
A private VIP performance of the new single at sound check
A meet and greet with the band after sound check
A VIP area at the show, where you will enjoy the performance with the band's guests
You will star in the band's official Beautiful Evolution Fan Music Video. Your footage, filmed on your Smart Phone, during the build-up to the show and your experiences getting ready, getting there, first drinks, sound check, as well as your experiences at the show, will be edited into the Official Fan music video of the track and released on YouTube