The bells of the Bay at Campanile
30 March 2012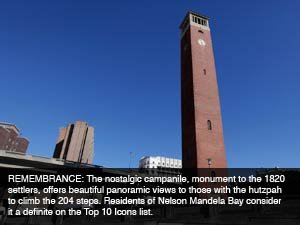 PRESIDING over the Port Elizabeth harbour since 1923, the Campanile clock tower has stood tall against the test of time taking into the present as one of the city's top ten icons.
"The Campanile is a distinguishable icon, very different from any other in the city. It possesses a deep-rooted charm that engages you, even when you're only driving past. It is certainly a timeless heritage treasure and deserves its place in the Top 10 icons of the city," said Titus Chuene, Nelson Mandela Bay Tourism marketing manager.
Built on the mooring beach where the British Settlers landed in 1820 as a commemoration of their arrival a century later, it towers above the city – mainly offering panoramic views for those with the hutzpah to ascend its stairway to the heavens.
The tower is 51.8 meters high and has 204 steps to the top. "Perhaps the arduous journey to the top will engender some sympathy for the settlers' journey of 1820, but in any case, the view is worth it – and it is incredible to hover above the cacophony of the city below from the confines of the Campanile," said Chuene.
"Right at the heart of the city, near the entrance to the railway station and docks in Strand Street, it's hard not to be mesmerized by this towering treasure. Its heritage value is crucial for the city and it also makes a clear statement regarding our city's earliest days and the tribute to its founders, " said Chuene.
The Campanile contains the largest carillon of bells in the country in addition to its chiming clock. When it's song time, the tower tops ring out with a carillon of 23 bells, conjuring nostalgic cries of history.
"Every city is different and has its own qualities that give it its edge. For Cape Town this is Table Mountain, for our city one of these is the distinctive Campanile," said Pierre Voges Mandela Bay Development Agency (MBDA) chief executive. There are currently plans by the MBDA to develop a Freedom Walk from the Campanile to the Donkin Reserve.
Opening times are Tuesdays to Saturdays from 9am to 5pm. On Sundays, it is open from 2-5pm. It is closed on Mondays and admission is by donation.