Tourism Month Launched in Nelson Mandela Bay
01 September 2020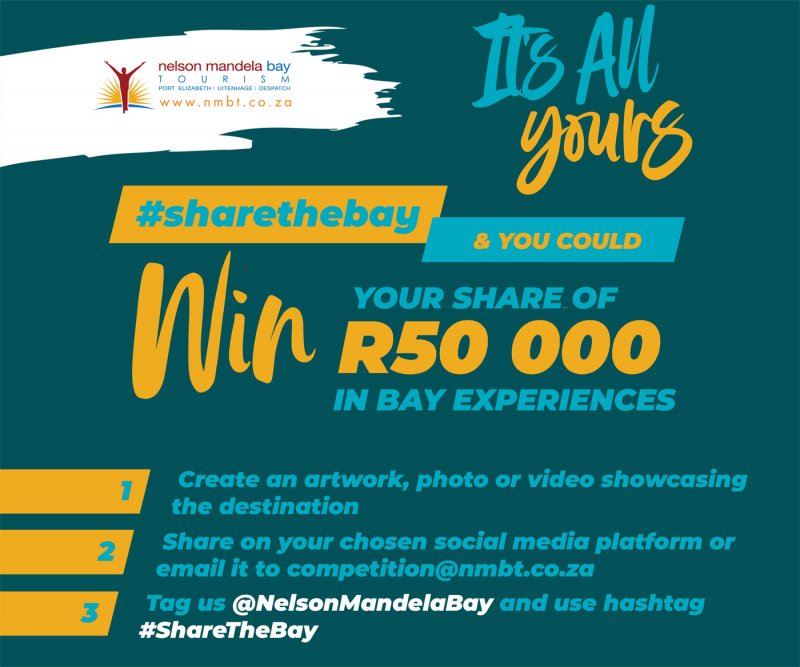 MEDIA STATEMENT 1 September 2020 NMBM MAYOR ENCOURAGES RESIDENTS TO EXPLORE THE BAY AS TOURISM MONTH
Nelson Mandela Bay Municipality Acting Mayor Councillor Thsonono Buyeye launched a jam-packed Tourism Month on Tuesday, 1 September 2020, encouraging locals to become the City's ambassadors as the hardest hit sector, Tourism, picks up the pieces amid COVID-19.
Due to COVID-19 regulations the Tourism Industry was closed and recently reopened for business having lost millions of rands and thousands of jobs. During the launch which took place in Pine Lodge Resort in Summerstrand, the Mayor said is was important to highlight that 2020 was no ordinary year for the Nelson Mandela Bay, the country, the World and the Tourism Industry as a whole.
However despite the challenges faced, he said the City was ready for business and eager to rebuild the economy with Tourism Economy as a great start. "Tourism is one of the main economic drivers for Nelson Mandela Bay and thus all spheres of government need to play their part in ensuring that the City is ready for tourism activity. This includes accessibility issues, cleanliness, safety, education and infrastructure required in order to allow for the growth of the industry."
"I am pleased to note that the Directorate of Economic Development has established an Economic Recovery Plan. A plan that pulls up tourism as one of the economic drivers. One of the initiatives that was of interest that the Directorate will implement in this Tourism Month is a marketing campaign that will educate and encourage locals to become ambassadors for the city by sharing content on their social media plartforms."
Mayor Buyeye said the global pandemic had shown the power of social and digital media and how the platforms can be used effectively and efficiently to disseminate messages and promote behavioral change in the fight against COVID-19. "I am then impressed that we have pulled through COVID-19 with some positive aspects that we can use to turnaround the tourism industry as it is one of the hardest hit during this time. What impresses me more is that the City will use its own people as ambassadors," he said.
As part of this month's activities, the City has launched an exciting competition where locals can stand a chance to win tourism experiences of up to R50 000. During this month each week will have a theme where residents can create an artwork, take and share a photo or create and share a short video showcasing the City's attractions and icons, wildlife and nature, heritage and culture and food and entertainment. For more details on how to enter residents can go on www.nmbt.co.za/share_the_bay.html.
In an effort to appreciate our visitors, NMBM has partnered with the NMB Tourism industry to create travel packages to encourage travel in and around the City. The City has a variety of activities such as hiking trails, beaches, wildlife excursions which can be enjoyed while adhering COVID-19 safety measure such as social distancing.
Acting City Manager Anele Qaba who is the Executive Director for Economic Development, Trading and Agriculture said the total contribution of travel and tourism to the City's GDP in 2018 was around R9.94billion with 41 664 jobs supported. "The impact of COVID-19 pandemic negatively changed this picture as NMB like in any other tourism destinations in the country suffered the consequences. There is a huge decline driven by the lockdown and impact on travel restrictions. The number of bednights sold decreased by 54.2% from January to June 2020 compared to the same period in 2019."
"The direct contribution of tourism to the GDP decreased to R410 Million for the first six months of 2020 compared to the same period in 2019. This is a decrease of an estimated R785 Million (65.7%) from the R1.196 Billion generated during this period in 2019. About 11 000 direct employment opportunities in the local economy could be lost if tourism continues on the same trajectory and thus it is important for the sector recovery interventions to be implemented with urgency," he said adding that interventions will be put in place to bring life to the industry again.
"The interventions will include fast tracking of catalytic projects that will have a positive impact on tourism such as Waterfront Development, Island Vibe Resort in Colchester, Rebuilding and revival of resorts, Municipal Nature reserves etc. Protection of the City's Heritage and development of new Heritage Sites. As we get into this important month, it is of crucial importance that the NMBM must not only focus on minimizing the effects of the pandemic, but also build a stronger, more resilient future for the tourism businesses, Qaba concluded.
Chairperson for NMB Tourism, Shaun Van Eck urged locals to be positive and welcoming to visitors to delight visitors with exciting, engaging and value for money experiences.
Ward 2 Councillor Renaldo Gouws highlighted that the City had an advantage of being affordable while offering some hidden gems for locals and visitors.