Sardinia Bay Bush and Beach Horse Riding Experience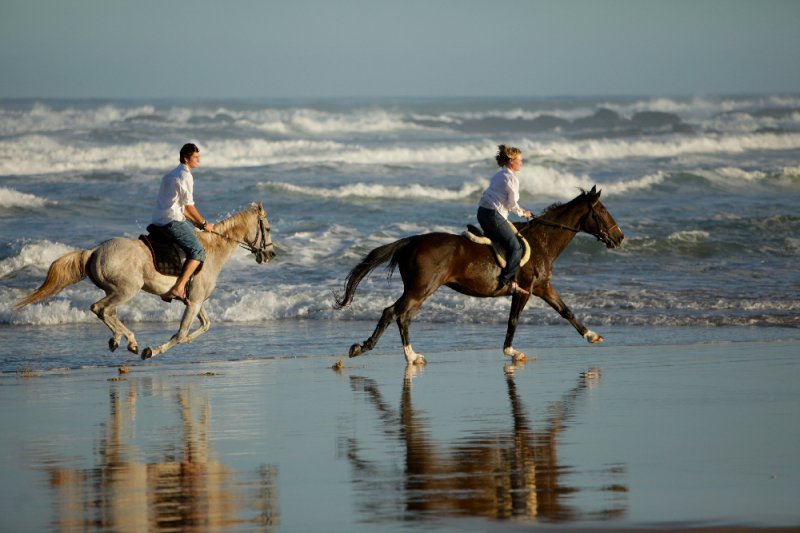 ABOUT US
Revitalize yourself with a riding vacation out of the charming seaside suburb of Sardinia Bay, Lovemore Park in Port Elizabeth and the exquisite freedom of cantering along the Indian Coast... Join us for a fabulous vacation along the coast of Sardinia Bay where the magic lies in the spectacular scenery, and the crashing of the waves of the Indian Ocean Here we find magic in the tranquility and majesty of this incredible place in which we are privileged to live and ride. Let us share the magic with you. This is an area of great natural beauty, rich in wildlife and where time flows with the relaxed pace of the west coast and small town lifestyle. The ghosts of Dutch adventurers tenaciously cling to this isolated haven where you can canter along its deserted ocean beaches, ride the rugged bluffs with the great ocean crashing against the sand far below, and meander on trails through the magnificent Sardinia Bay reserve. Your host Jackie invites you to ride with her on her prized string of much loved horses. Her horses round out the line-up of wonderfully well-trained horses, in English style saddles. The quality of horses available to ride is top notch and so are the exciting trails you will discover together. This is a riding vacation that can cater for many types and levels of riders. Experienced riders can pre arrange to ride the optional fast stretches and where novice riders can opt for a relaxed version, all meeting up again further along the route. The trail and Coast Ride takes you through the Sardinia reserve and up into the coastal range, richly covered with towering dunes and offering views that stretch to what seems like eternity.
EXPERIENCE
We have scenic 2 1/2 - 3 hour horse rides through the Sardinia Bay Nature Reserve where one could catch a glimpse of bushbuck. duiker, grys bok, ververt monkeys and a large variety of bird life and other smaller animals. Then enjoy a relaxing ride along the beautiful Sardinia Bay beach or for the more experienced a nice canter along the beach, if arranged in advance.
INCLUDED
Riders must please wear: long pants, closed shoes and we supply the helmets.
FEATURES
We cater for all levels of riders riding well-schooled horses and ponies.
LOCATION
Plot 431 Sardinia Bay Rd, Lovemore Park, Port Elizabeth, 6070
BOOKINGS
Pre-bookings required.
CONTACT
Mobile: 081 890 7080, Email: jackie@heavenlystables.co.za