Adrenalin Addo Adventure Park
Location
Eastern Cape > Addo > Summerville


Description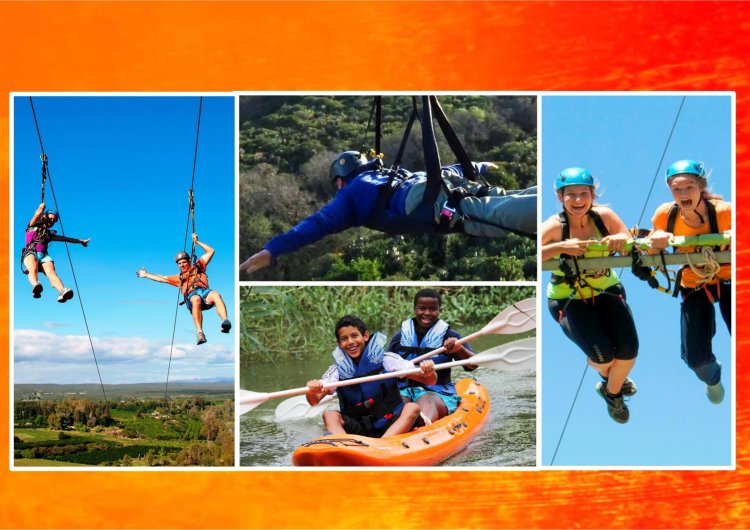 Looking for fun activities to do in Addo? Adrenalin Addo has it all! Adrenalin Addo is an Adventure Park in the heart of Addo, located just 20 minutes from the Addo Elephant Park. Whether you are looking for some heart-pumping fun on our zipline or some stomach-losing madness on our giant swing, or something more composed like canoeing on the Sundays River, our activities are all about trying new things and surrendering to boundless fun. Rated as the number one attraction in Greater Addo, we are an ideal getaway for friends and families, and the premier adventure venue for corporate groups and school camps.
Addo Zip Line:
Not one but two 500m wires, make this the highest, longest and fastest double zip line in South Africa.
- 70m high, 500m long, speeds of up to 80km/h
- Twin cables, two riders at a time - double the fun!
- Hands free all the way
- Automated braking system - no rider involvement


Addo Superman Zipline:
Take ziplining to the next thrilling level and experience its flight in superman form - forward facing and on your stomach. One of only two sites in South Africa to offer this experience, it is the ultimate way to fly without wings!


Addo Giant Swing:
A true test of nerve, our giant swing will leave you screaming, laughing or devoid of any sound at all - ultimate adrenalin rush!
18m high; several seconds of free fall
Two at a time; the swing of a lifetime!


Addo Canoeing:
Our two-man canoes are a wonderful way to explore the Sundays River, enjoy some paddling and embrace the song and surrounds of the river.


Addo Snack Deck:
Offering a selection of drinks and light eats (toasties, wraps, homemade roosterbrood), our snack bar opens out onto a beautiful deck overlooking the Sundays River, and is a perfect spot to sit and relax.
MAP
Latitude : -33° 28' 25.39" S | Longitude : 25° 36' 8.03" E


Directions
We are located in the heart of the Sundays River Valley, about 50 minutes from Port Elizabeth and just 20 minutes from Addo Elephant National Park.

How to get to us from Port Elizabeth:
Take the N2 towards Grahamstown, followed by the R335 to Motherwell (same directions for Addo Elephant National park). Continue for about 40 km until you reach the village of Addo. Just beyond Addo village, turn left onto the R336, heading towards Kirkwood. After 12km, look out for the Adrenalin Addo sign board and take an immediate right down a dirt road. Follow the dirt road as far as you can until you reach a T junction and turn left. After about 300 metres you will come to our entrance.


Image Gallery
Experience
Food and Entertainment

Entertainment & Shopping
Family Activities
Outdoor

---
Things to See and Do

Adventure & Sports
Adventure
Adventure Centre
Adventure Tours
Zipline


App Guides
Drive and Go
Top Attractions

Languages
South African
Afrikaans
English