Apple Express Rail
Location
Eastern Cape > Port Elizabeth > Humerail


Description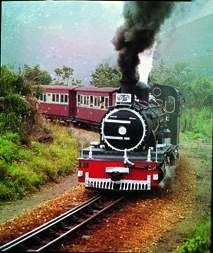 THE TRAIN IS CURRENTLY RESTING AFTER A BUSY SUMMER SEASON AND UNTIL THE PILOT PHASE REVIEW HAS BEEN COMPLETED AND WILL ONLY RUN ON SOME DAYS AS ADVERTISED. AS SOON AS THE PLANS FOR THE FUTURE HAS BEEN FINALISED WE WILL PUBLISH THE DETAILS OF REGULAR FUTURE TRIPS. PLEASE ALSO KEEP AN EYE ON SOCIAL MEDIA ON FUTURE DEVELOPMENTS AND TRIPS.

The Port Elizabeth-Avontuur Narrow Gauge line was authorised in 1899, with construction starting in 1902. In late 1906, it reached the end point at Avontuur and officially opened early in 1907. A main line track covers a length of 177 miles (284kms) from Port Elizabeth to Avontuur – this is the longest narrow gauge railway line in the world, crossing Van Stadens Railway Bridge, the highest narrow gauge railway bridge in the world. In 1914, the 30km Branch Line, from Gamtoos Station to Hankey and Patensie was opened to serve this rich irrigation farming area. Both freight and heritage operations successfully operated on line.
The Summer Nelson Mandela Bay Steam train will depart from King's Beach and make its way to the Nelson Mandela Bay Harbor. From the Harbor the train will push through Humewood Station to its final destination, Port Elizabeth International Airport. The train will make its way back along the same path to King's Beach.
Please note that the train is a non-smoking, non-vaping, non-eating and non-drinking Train. The toilet facilities are unavailable as the trip time stands at just under an hour.
For Bookings and Train Schedules visit
https://www.appleexpresstrain.co.za/
The planned service will comprise short-haul and day trips, with other services being added as the refurbishment of the railway line is rolled out in phases. Disabled facilities are available.
MAP
Latitude : -33° 58' 23.87" S | Longitude : 25° 38' 32.80" E


Image Gallery
Services
| | |
| --- | --- |
| Groups Accepted | Yes |
| Disabled Access | Yes |
| Children Allowed | Yes |
Experience
Things to See and Do

Historical
Historical Tours
Steam Trains
Tours

---
Travel and Tours

Rail Transport
Railway stations
Steam Trains


Tours
Tours

Languages
South African
Afrikaans
English