Bushbuck Trail
Location
Eastern Cape > Port Elizabeth > Seaview


Description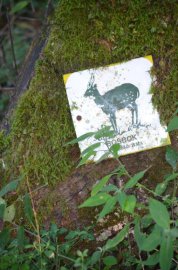 The Island Nature Reserve offers numerous walks, the most well known being the 16km Bushbuck Hiking Trail which starts just outside the Main Office of the Island Nature Reserve. The Bushbuck trail can also be fragmented into 5 different trails according to the distance they are covering.
BUSHBUCK TRAIL 1: This is the shortest trail of about 900m long which is mostly used by older people and young children for hiking. It starts on the left of the office building and ends behind the first ablution block. This trail is on a area liked by Blue Duikers and if one is lucky, he may see one of them. Many different types of birds can also be seen. It is unlikely that a hiker can get lost because there are many markers especially when a trail turns.
BUSHBUCK TRAIL 2: This trail is also short but longer than the 1st one and goes as far as the subway under tarred road. This trail is 975m long. Markers are also available.
BUSHBUCK TRAIL 3 : This trail covers 3.95km. Markers are available throughout. Important plants found on this trail are Hard pear (Olinia cymosa 2.4km); Outeniqua yellow wood tree (Podocarpus falcatus 3.2km) and you also get veld figs (Ficus Burtt-davyi). Ask for a tree list at the reservation desk.
BUSHBUCK TRAIL 4 : This is the longest sub trail which covers a bigger part of the reserve and is 7.6km long.
This also covers an upper part of the reserve where there is beacon and lookout points where one can see further places like Jeffreys Bay & Cape St. Francis on clear days (10.4km). The beacon provides a nice 360 Degree view of the reserve.
BUSHBUCK TRAIL 5 : This trail is shorter than trail 4 measuring 3.4 km, it joins the end of trail 4 then continues up to the staff village. A caracal is often seen along this trail so keep an eye open for its spoor.
Many of the trees are labelled with their national tree list numbers to aid identification and the birdlife is impressive - some 120 bird species have been recorded in the reserve. Vervet monkeys, bushpig and small antelope such as bushbuck and blue duiker are often spotted in the forest.
The full circuit, which will take about 3.5 hours plus requires some endurance, especially in hot weather. A map is available at the start and the trail is indicated by dots and arrows. There are ticks on the trails, especially the longer trails, so please ensure that you take the necessary precautions before and after the hike.
There is also an easy 1.3km trail and picnic sites with fireplaces. A R30,00 entrance fee is charge at the gate which is open from 08h00 till 16h30 during the week and on weekends 08h00 to 16h00.
Click here to download a map of the different sub trails of the Bushbuck Hiking Trail
You can also ask for a map and tree guide at the office before commencing on the hike.
MAP
Latitude : -33° 59' 7.84" S | Longitude : 25° 22' 12.51" E


Image Gallery
Services
| | |
| --- | --- |
| Groups Accepted | Yes |
| Car Parking Available | Yes |
| Day Visitors Allowed | Yes |
| Children Allowed | Yes |
Experience
Food and Entertainment

Entertainment & Shopping
Outdoor

---
Things to See and Do

Adventure & Sports
Hiking
Hiking Trails
Wildlife Walks


App Guides
Top Attractions
Walk or Pedal


Wildlife & Nature
Animal Sanctuary
Bird Watching
Hiking Trails
Indigenous Forest
Natural Heritage
Nature Reserve
Parks & Gardens
Provincial Park
Unique Biom
Wilderness Trails
Wildlife

Utilities
Catering
Braai facilities
Languages
South African
English
Xhosa