Cape Recife Nature Reserve
Location
Eastern Cape > Port Elizabeth > Summerstrand


Description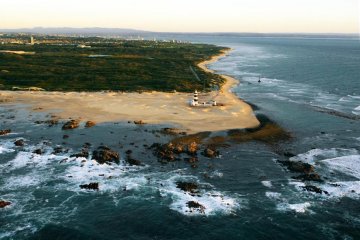 The 366 hectare Cape Recife Nature Reserve was proclaimed in 1973, and is situated next to the Pine Lodge Holiday Resort off Marine Drive, Summerstrand. The reserve offers some of the best beaches and views within Port Elizabeth and is home to SANCCOB Port Elizabeth where one can view the rehabilitation of marine animals in particular the African Penguin.
A 9 km circular walking trail starts at the entrance gate of the Nature Reserve and offers beautiful unspoilt beaches, natural dune vegetation, rocky outcrops, a lighthouse built in 1851, an old military observation post, as well as a bird hide. The Cape Recife Nature Reserve is also regarded as one of the best bird-watching venues around Port Elizabeth.
Entrance permits available from Pine Lodge Resort located at entrance to Cape Recife Nature Reserve. Entrance only with permit, zero tolerance for diving thus no entry with diving equipment.
Price of permits per vehicle (subject to change, please confirm pricing at Pine Lodge):
- Weekly @ R68.00 per vehicle,
- Annual (July - end June of each year) @ R344 - reduced to half price from 1 February of each year.
- Entrance for purpose of visiting
SANCCOB
is free/gratis provided proof of visit is produced on exit from the Reserve. Vehicles to park at SANCCOB and access to the reserve by foot.
- Entrance by foot and non motorised transport is free - parking available at gate.
Best times to visit 08h00 - 16H00. Visible security in Reserve during daylight hours.
MAP
Latitude : -34° 0' 48.49" S | Longitude : 25° 41' 28.72" E


Image Gallery
Experience
Things to See and Do
Adventure & Sports
Wildlife & Nature


Adventure & Sports
Hiking


Coastal & Beaches
Beach


Wildlife & Nature
Nature Reserve