Denville Beach
Location
Eastern Cape > Port Elizabeth > Humewood


Description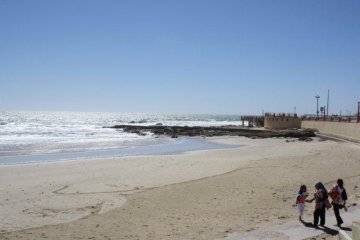 Denville Beach, a charming coastal haven situated opposite the Dolphin's Leap Centre and adjacent to the McArthurs Swimming Complex, offers a unique and immersive experience. The beach got its name from local Kings Beach lifesavers Dennis Buchman and Neville Mandy who were the first to surf it.
The beach's intimate size creates a cozy atmosphere, allowing visitors to feel a sense of connection with the surf culture that shaped its identity.

Denville Beach serves as an ideal location for those embarking on their surfing journey. The beach has become a hub for beginner surfing lessons, easily accessible through bookings at the nearby Ocean Side Surf store. As the waves gently roll onto the shore, instructors guide novices through the basics of surfing, transforming the beach into a dynamic classroom for surf enthusiasts in the making.

The proximity of Denville Beach to the McArthurs Swimming Complex adds to its allure, creating a multifaceted destination. Visitors can seamlessly transition from the excitement of surf lessons to the refreshing waters of the swimming complex, providing a well-rounded aquatic experience.
MAP
Latitude : -33° 58' 35.27" S | Longitude : 25° 38' 57.32" E


Image Gallery
Services
Experience
Things to See and Do

Adventure & Sports
Surfing
Swimming


App Guides
Sand to Sea


Coastal & Beaches
Beach


Film Location
Beach