Dora Nginza Hospital
Location
Eastern Cape > Port Elizabeth > Ibhayi


Description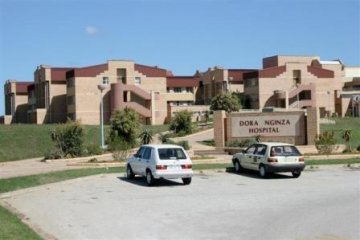 Dora Nginza Hospital is a large and well-established public hospital that serves the Eastern Cape province. Named after a prominent South African nurse, Dora Nginza, the hospital has been providing healthcare services to the community for several decades.

Contact Number: (Telephone) +27 (0) 41 406 4111
Dora Nginza Hospital is a large and well-established public hospital that serves the Eastern Cape province. Named after a prominent South African nurse, Dora Nginza, the hospital has been providing healthcare services to the community for several decades.

The hospital is situated in Zwide, a township within Port Elizabeth, making it easily accessible to both residents and visitors. It is approximately 15 kilometers away from the city center, and various transportation options are available to reach the hospital, including taxis and public buses.

Dora Nginza Hospital is known for its commitment to delivering quality healthcare services to all patients, irrespective of their socioeconomic background. It offers a wide range of medical services, including emergency care, general medicine, surgery, pediatrics, obstetrics and gynecology, and more. The hospital also has specialized departments such as cardiology, orthopedics, ophthalmology, and radiology, among others.

The staff at Dora Nginza Hospital consists of highly trained doctors, nurses, and other healthcare professionals who are dedicated to providing compassionate and professional care to patients. They prioritize patient well-being and strive to ensure that each individual receives the best possible treatment and attention.

The hospital is equipped with modern medical equipment and facilities, enabling the delivery of comprehensive medical care. The infrastructure includes well-equipped operating theaters, intensive care units, diagnostic imaging facilities, and laboratories, among others. The hospital also has a pharmacy on-site, ensuring that patients can conveniently obtain prescribed medications.

As a tourist, it's important to note that Dora Nginza Hospital primarily caters to the healthcare needs of the local community. However, in case of an emergency or urgent medical requirement, the hospital may provide necessary treatment and assistance.
MAP
Latitude : -33° 52' 41.44" S | Longitude : 25° 33' 42.37" E


Image Gallery
Services
Experience
Visitor Services

Emergency Services
Clinics
Health Centre
Hospitals


Medical Services
Clinic
Hospital

Languages