Flamingo Trail
Location
Eastern Cape > Port Elizabeth > Zwartkops


Description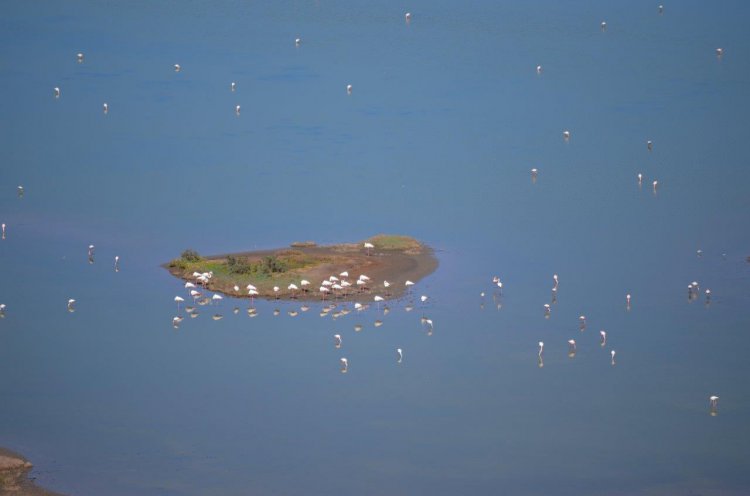 The walk of 9 km (3-4 hours) starts at the MOTHERWELL STORMWATER CANAL in the ZWARTKOPS NATURE RESERVE on the northern bank of the ZWARTKOPS RIVER upstream of the brickfields. Access is via a dirt track along the river from the COROBRIK FACTORY adjacent to the BRAMLIN-MARKMAN HIGHWAY. Cars may be parked, at your own risk, at the Corobrik factory or in the Nature Reserve. The walk is suitable for moderately fit persons. It is advisable to walk in a large group, wear strong shoes and carry drinking water.
The Zwartkops Nature Reserve starts at the stormwater canal and extends along the escarpment for about 6km. The reserve is designed to protect the valley bushveld, which is generally in prime condition and serves to bind the clay slopes (to see what happens when the bush is removed, compare with the slopes of Amsterdamhoek). The reserve also protects major BIRD BREEDING COLONIES and the calcareous sandstone is rich in FOSSILS (please note that it is illegal to collect the fossils).
The escarpment section of the trail is marked with YELLOW ARROWS and goes up the side of the stormwater canal, turning left near the top. Along this path there is plenty of opportunity to note how the vegetation copes with the low rainfall (Swartkops receives much less rain than the city).
Succulents dominate the vegetation, the tall ALOES flowering in June/July. Look out for the pink flowers of the IVY-LEAVED GERANIUM and the red flower of the BOER BEAN. CAPE GRYSBOK and the rare BLUE DUIKER are the main large mammals. After providing glorious views of the whole estuary, the path descends to the saltpan via a kloof and then follows the track along the bottom of the escarpment. The trail around the saltpan is marked with RED ARROWS.
The saltpan is a primary evaporation pan, the first in a series of commercially operated pans in the valley. Near the pumphouse the bush is characterised by many TREE EUPHORBIAS. The trail turns left here and follows the river towards REDHOUSE.
The Zwartkops River is a major recreational area. The intertidal areas above Redhouse are dominated by PINKPRAWNS, whereas further downstream MUDPRAWNS are the main invertebrates and provide food for the Zwartkops River's most famous fish – the SPOTTED GRUNTER.
As the trail joins the saltpan again, there should be large numbers of small WADERS, most of which are summer migrants that breed in Arctic Russia.
FLAMINGOS are usually present close by, up to 1 000 have been recorded. The saltpan is a very important breeding area for seabirds, including GULLS, CORMORANTS and TERNS. Disturbance of their nests is strictly forbidden. Much of the vegetation around the saltpan is SALTMARSH, with purple VYGIES adding colour.
NOTE: USE OF THIS AREA IS ENTIRELY AT YOUR OWN RISK. IT IS ADVISED TO WALK IN LARGE GROUPS.
Download the Flamingo Trail Map Here.
MAP
Latitude : -33° 50' 10.74" S | Longitude : 25° 35' 40.28" E


Image Gallery
Services
Experience
Food and Entertainment

Entertainment & Shopping
Family Activities

---
Things to See and Do

Adventure & Sports
Hiking
Hiking Trails
Wildlife Walks


Coastal & Beaches
Hiking Trails


Wildlife & Nature
Bird Sanctuary
Bird Watching
Hiking Trails
Natural Heritage
Unique Biom
Wilderness Trails
Wildlife
Wildlife & Nature Tours

Languages