Fort Frederick
Location
Eastern Cape > Port Elizabeth > Central


Description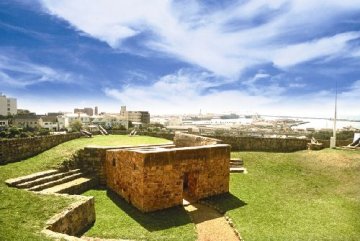 Fort Frederick, Port Elizabeth, which is located along Belmont Terrace, Central, is a stone fort built in 1799 by the British Forces to defend the mouth of the Baakens River.
Built in 1799 on a natural citadel, Fort Frederick stands guard over a magnificent view of Algoa Bay. Named after Frederick, Duke of York and Commander of the British Army, it was built by troops sent to Algoa Bay to prevent a possible landing of French troops to assist the Graaff-Reinet rebels during the Napoleonic wars, the inception of British occupation of the colony.
The 'landing with fresh water', as Algoa bay was referred to, is at the mouth of the Baakens River, which stretches from just above the harbour to the western outskirts of Port Elizabeth. By the arrival of the 1820 settlers, no retributive shot had been fired from Fort Frederick, as the case is to this day.
The over-200-year-old fort contains a powder magazine and a blockhouse, which has lost its timber upper storey; and was originally defended by two 8-pounder guns and one 5.5 inch Howitzer and now contains a selection of muzzle-loaders dating from the later part of the eighteenth century.
On the north side of the fort lies the grave of Captain Francis Evatt, Commandant of Fort Frederick between 1817 and 1847. Captain Evatt is known to have overseen the arrival of the Settlers in 1820.
Fort Frederick is also one of the initial buildings of Port Elizabeth, which sprang up around the fort.
Opening times are daily, from sunrise to sunset and the admission is free.
Click here for a virtual tour of Fort Frederick
MAP
Latitude : -33° 57' 59.43" S | Longitude : 25° 37' 16.99" E


Image Gallery
Services
| | |
| --- | --- |
| Car Parking Available | Yes |
| National Monument | Yes |
Experience
Things to See and Do

App Guides
Hidden Gems
Top Attractions


Arts & Culture
Monuments


Historical
Buildings
Historical Places
Memorials
Monuments
Places