Ginger The Restaurant
Location
Eastern Cape > Port Elizabeth > Summerstrand


Grading





Description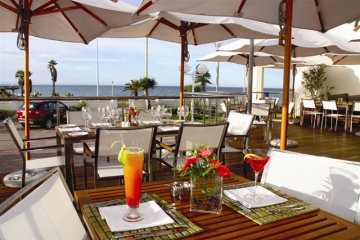 For one of the finest all-round dining experiences, pay a visit to Ginger Restaurant, It's cool and airy elegance is matched only by the excellence of it's cuisine and service. It can accommodate, with indoor and deck seating, 120 diners with magnificent views from every corner of the restaurant, taking in the beach front, ocean and beyond.
If you're looking for fine dining, Ginger is definitely one of the places to go in Port Elizabeth. The versatile menu boasts some innovative cuisine, such as salt and pepper squid on a gentle, Thai-inspired salad; harissa fish soup (with the harissa paste served in a little cup); lemon roasted chicken on black pepper gnocchi; and a most delicious cinnamon, fennel and ginger ice cream. The restaurant uses local produce for seafood and venison dishes abound.

The award winning wine selection deserves special mention, both quaffer and connoisseur are well catered for. The selection have obviously been chosen with the menu in mind, and many a wine lover's heart will be gladdened to see the choices available.

Service is spot-on and what you would expect from an establishment of this calibre: extremely efficient and informed, questions about ingredients are relayed to the chef and answered. The constant presence of the manager on floor adds to the success of the restaurant.

The glass wall facing the ocean, neutral shades, textured walls and beautiful artwork, as well as luxurious tablecloths and chairs, all contribute toward a luxurious experience. The crockery and cutlery are simply beautiful.
MAP
Latitude : -33° 58' 55.35" S | Longitude : 25° 39' 31.28" E


Image Gallery
Experience
Food and Entertainment

Entertainment & Shopping
Cocktail Bars
Food
Restaurants


Restaurants
A La Carte
Cocktail Bars
Mediterranean

Utilities
Business
WiFi
---
Catering
A La Carte Restaurant
Restaurant
Languages
South African
Afrikaans
English