Hobie Beach
Location
Eastern Cape > Port Elizabeth > Summerstrand


Description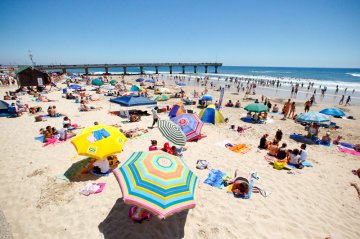 The popular Hobie Beach, in the vicinity of Shark Rock Pier and the Boardwalk, is the venue for the annual "Splash Festival", beach volleyball and world boardsailing championships.
Hobie beach, which is a favorite for swimming, sunbathing and body surfing, also offers sheltered rock pools with interesting inter-tidal sea life. Other facilities include plenty of eating establishments, ablution facilities, as well as a launching place for sailing and rubber ducking.


SHARK ROCK PIER

Throwing its long legs into the warm Indian ocean, the 137m long Shark Rock Pier, is at once beach architect and icon. The concrete monolith is the reason that today Hobie Beach is amongst the city's most popular swimming beaches. After its construction saw more sand trapped on the rocky shore, which then gave birth to the sandy expanse known as Hobie Beach, in prime position for urban sun worshippers and water babies.

The only pier in Nelson Mandela Bay, it has become the "sun" the beachfront revolves around where big events are hosted on its shoulder, flags adorn it, people adore it and throngs walk its girth - clutching ice-creams and a desire to be suspended above the water depths that define the Bay.
MAP
Latitude : -33° 58' 49.36" S | Longitude : 25° 39' 32.86" E


Image Gallery
Experience
Food and Entertainment

Entertainment & Shopping
Family Activities
Outdoor
Youth Entertainment

---
Things to See and Do

Adventure & Sports
Canoeing
Lifesaving
Scuba Diving
Snorkeling
Surf Lifesaving
Surf Ski
Swimming


App Guides
Top Attractions


Coastal & Beaches
Beach
Diving Spots
Pier
Scuba Diving