Izilo Zakwantu Entertainment (Cultural Dance Group)
Location
Eastern Cape > Port Elizabeth > Kwazakhele


Description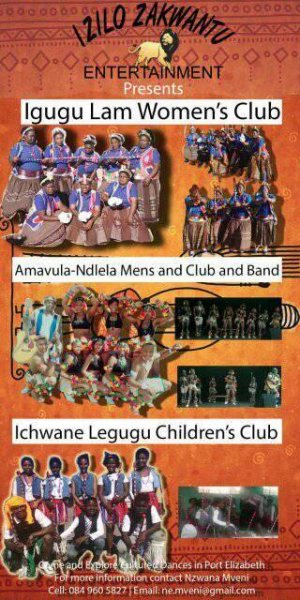 We have three different groups of African cultural dance that performs in all regions, everywhere, across the world.

We do performances at functions such as rituals, ceremonies, parties, celebrations, hose of tourism, host of state visitors, etc.
We have different groups which are Mpondo dance called 'Imfene', Bhaca women groups called 'Mamtiseni' and 'Bhaca' men and female group called 'Ingoma' along with instruments that they play called 'Isiginga'.
MAP
Latitude : -33° 52' 1.33" S | Longitude : 25° 34' 0.18" E


Image Gallery
Services
Experience
Food and Entertainment

Entertainment & Shopping
Entertainment

Languages
South African
English
Xhosa