Maitland River Mouth
Location
Eastern Cape > Port Elizabeth > Maitland


Description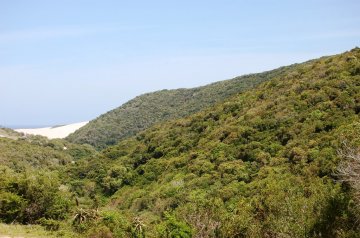 Maitland River Mouth is located at the foot of the famous Maitland dune "mountain"; sand-boarding is a favourite pastime while kilometers of sandy beach can be explored at leisure.
The 250 hectare Maitland Nature Reserve, which is accessed via the Seaview Main Road to Maitland River Mouth, comprises dense indigenous coastal forest, abundant birdlife, an old wagon road which leads to Maitland lead mines, a variety of small animals such as bushbuck, and blue duiker as well as the famous giant Maitland sand dunes.

The reserve offers three nature trails which provide easy access into the dense forest, namely; The Sir Peregrine Maitland Nature Trail which is a 3 km self-guided trail along the old wagon road; the De Stades Nature Trail which is 9 km long trail and provides magnificent view of St Francis Bay and Maitland dunes; and lastly the Igolomi Trial which is a 4km walk passing through some of the thickest sections of the dense forest.
MAP
Latitude : -33° 59' 14.28" S | Longitude : 25° 17' 36.44" E


Image Gallery
Experience
Things to See and Do

Adventure & Sports
Angling Shore Line
Fishing
Sand Boarding


Coastal & Beaches
Beach
River Mouth


Wildlife & Nature
Bird Watching
Nature Reserve
Unique Biom