Nelson Mandela Bay Pass
Location
Eastern Cape > Port Elizabeth > Central


Rates From
R300


Description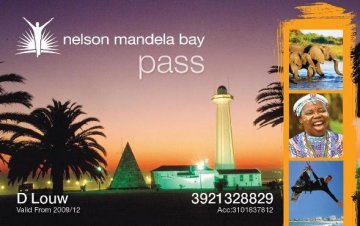 The Nelson Mandela Bay Pass - Experience a whole lot more for less!

The Nelson Mandela Bay Pass, a smartcard access card, provides you with free admission to a variety of attractions and activities in Nelson Mandela Bay. This includes amongst others museums, game reserves, scuba diving, art galleries, sightseeing tours and many more. It also entitles you to some great discounts in selected stores for shopping, activities, entertainment and more. The Nelson Mandela Bay Pass offers flexibility, convenience, variety and savings.
When purchasing a NMB Pass you get a smartcard as well as a free guide to all the offers available. The card, when valid, gives you access to the offers as advertised in the guide. Be sure to get your Nelson Mandela Bay Pass and discover all the excitement that Nelson Mandela Bay has to offer. Simply show or transact your pass and receive the special offers available at the participating facilities - The more you see the more you save!

Types of passes!
Choose between the -"5 in 1" NMB pass or "unlimited access NMB passes.

What you get: Refer to www.nelsonmandelabaypass.co.za for the most up to date offers.

Prices and Where to buy!
Prices are subject to change and start from as little as R280.00 for Unlimited access cards and R400 for
the 5in 1 passes!

Packages!
Visit http://www.nmbt.co.za/special_offers.html to view packages that include accommodation and the Nelson Mandela Bay Pass!
MAP
Latitude : -33° 57' 38.47" S | Longitude : 25° 37' 9.93" E


Image Gallery
Services
| | |
| --- | --- |
| Groups Accepted | Yes |
| Children Allowed | Yes |
Experience
Business and Conferencing

Business
Other
Promotions
Service
Tourism


Conferencing
Decor & Accessories

---
Food and Entertainment

Entertainment & Shopping
Amusement Parks
Aquariums
Entertainment Centers
Food
Miniature Golf
Paintball Shooting
Pool Bars
Restaurants
Shopping Centers
Team Building

---
Things to See and Do

Adventure & Sports
Canoeing
Diving
Horse Racing
Horse Riding
Other
Paintball
Quad Biking
River Rafting
Scuba Diving
Snorkeling
Steam Train
Swimming


Arts & Culture
Art Galleries
Arts & Craft Tours
Cultural Tours
Other
Township Tours


Coastal & Beaches
Charters
Diving Charters
Diving Training
Other
Scuba Diving
Whale Watching
Yachting


Historical
Historical Tours
Other
Tours


Wildlife & Nature
Other
Whale Watching
Wildlife & Nature Tours

---
Travel and Tours

Rail Transport
Steam Trains


Road Transport
Car Rentals


Tours
Guided Tours
Local tour Operators
Other
Tours
Tours & Packages


Water Transport
Fresh water charters
Sailing
Sea Cruise Charters

Utilities
Body, mind and spirit
Massage
Spa
---
Business
Travel arrangements
Languages
Foreign
French
German
Spanish
---
South African
Afrikaans
English