Little Theatre
Location
Eastern Cape > Port Elizabeth > Central


Description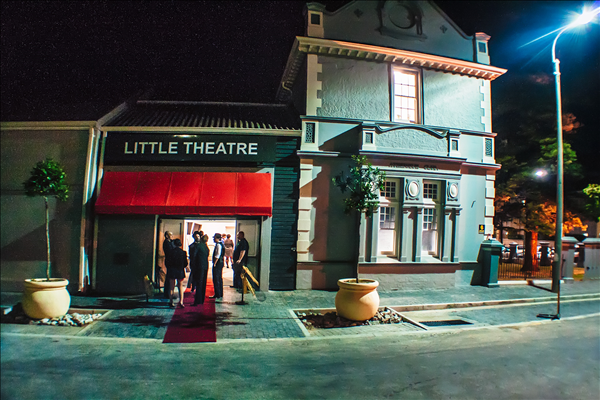 The Little Theatre, located on the corner of Castle Hill and Belmont Terrace, Central, was built in the 1850's and originally named the "Athenaeum". It was initially founded to promote cultural activities and, after various other uses, has again become a centre for cultural as well as social activities. The building is one of few examples of the classical style of architecture in the city and was declared a national monument in 1980. The Little Theatre is now home to the Port Elizabeth Music and Drama Society who occasionally stage small productions and modern musicals.
The colourful Little Theatre includes a very modern, pop art foyer with its 250 multi-coloured seats (hence the nickname, "Smartie Theatre") and it's unique raked stage is a vibrant, but intimate space for just about any theatre performance. It's the gem of the building and is quickly becoming an icon for functional inner city revitalization.

The Little Theatre is one of the most sought after spaces for hire in the Athenaeum and is a stage for almost any conceivable creative industry pursuit: theatre productions, shows, live concerts, film screenings and now conferences, debates and book launches. This charming Little Theatre has been around since 1946 when PEMADS enlarged the Loubser Hall in the Athenaeum.

The flamboyant foyer area also has two theatre stage areas and can be used for smaller more cosy functions of up to 100 people. The entire theatre complex is supported by a fully serviced bar.
MAP
Latitude : -33° 57' 51.38" S | Longitude : 25° 37' 13.09" E


Image Gallery
Experience
Business and Conferencing

Conferencing
Conference Venue

---
Things to See and Do

Arts & Culture
Drama
Theatre


Historical
Buildings
Places

Utilities
Business
Conference facilities
Conference Facilities - Available Seating
| Room Name | U-Shape | Cinema | Banquet | School |
| --- | --- | --- | --- | --- |
| Foyer | | 100 | | |
| Little Theatre | | 252 | | |