Port Elizabeth Main Library
Location
Eastern Cape > Port Elizabeth > Central


Description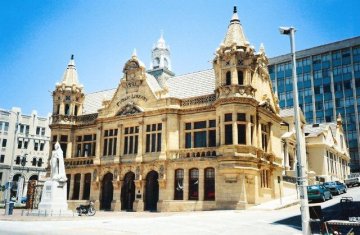 The splendid old Port Elizabeth Main Library is situated in the North-Western corner of Market Square. The first building on the site was constructed in 1835 and was initially used as a courthouse from 1854.

The present library building was officially opened in 1902. The building is regarded as an excellent example of Victorian Gothic architecture and the terra-cotta façade was manufactured in England.

The majestic Sicilian marble statue of Queen Victoria, which keeps watch over the Market Square, was erected and unveiled in 1903. Visitors are invited to browse around inside the Library.
In Port Elizabeth, a small reading society, known as the Port Elizabeth News Society was established in 1844 and housed in a rented room above a shop in Jetty Street. The reading matter consisted mainly of English magazines and London newspapers and the main South African newspapers published at the time, in addition to a small collection of books.

In 1845, the Society moved to a rented room in the Commercial Hall which stood on the site of the present Main Library building. At a public meeting held on 26 July 1848, the residents decided to start a subscription library. £585 was collected from public subscriptions, and a yearly income of £197 was guaranteed. In addition, the government of the day gave a grant of £200.

The Public Library was very successful and, partly through buying shares, but mostly through members who donated their shares, managed to acquire the Commercial Hall wholly as their own building. In 1854, the library moved out and rented the building to the Government, which used the old Commercial Hall as a court house.

The library was housed at various sites until 31 July 1902, when it was officially opened and housed in its present building. In the 1960's, plans were mooted to demolish the building in order to make way for the erection of a Provincial Administration block, which would include space for a Provincial Library Service. Fortunately, this never happened, and in 1983, the building was declared a historic monument.

Today it is the only historic building in South Africa built as a Public Library which is still functioning as a public library. In 1965, after a public referendum was held, the assets of the Port Elizabeth Public Library and the North End Library were handed over to the Port Elizabeth Municipality and, together with the assets of the Walmer Library, formed the nucleus of the municipal Port Elizabeth Public Libraries.

Operating Hours:
Monday 10:00 - 17:00
Tuesday 09:00 - 17:00
Wednesday 09:00 - 17:00
Thursday 09:00 - 17:00
Friday 09:00 - 13:00
Closed on weekends
MAP
Latitude : -33° 57' 43.27" S | Longitude : 25° 37' 22.50" E


Image Gallery
Experience
Things to See and Do

App Guides
Donkin Heritage Trail


Film Location
City Streets
Historical


Historical
Buildings
Donkin Heritage Trail
Historical Places
Historical Tours
Memorials
Monuments
Places

---
Visitor Services

General Services
Libraries


Government Services
Community Centre / Halls
Government Department