Rose Trehaeven's Haunted & Historical Walks
Location
Eastern Cape > Port Elizabeth > Humewood


Description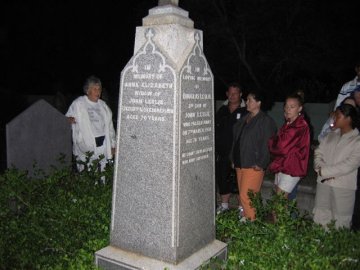 It is alleged that Port Elizabeth has an over-abundance of "ghosts" lurking in Central Hill, the city's oldest suburb and historical heartland. Rose Trehaeven's offers Haunted, Ghost & Historical Walks.
Haunted and Historical Walks

Hear the ghostly tales and love stories that make up Port Elizabeth's past, as Rose Trehaeven walks you back in time.

The Haunted Walk will guide you past scenes of spectres and apparitions, where weird phenomena and legendary characters once revealed themselves.
Learn of the great love story that gave the city its name.

The Historical Walk will stroll you through the byways of a bygone age, when sailing ships plied their trade and merchants, beggarmen and thieves rubbed shoulders in the streets of the growing town.

Haunted Walks for the holiday season 2011-2012

Every Tuesday and Thursday from December 20 to January 5. These walks start and end at The Club, 12 Bird Street, in Central Hill at 7.30pm promptly.

Safe parking is available.

Book night walks on any other evening, but ten walkers are essential.


Historical Walks

These day walks can be booked at any time, on a mutually agreed basis, for any number of participants. The Donkin Reserve and Route 67 are popular routes.


For Bookings or further information contact Rose on 041 583 2584 or 084 261 3882.