Sand River Getaway
Location
Eastern Cape > Elands River Valley > Elands River Valley


Rates From
R200


Description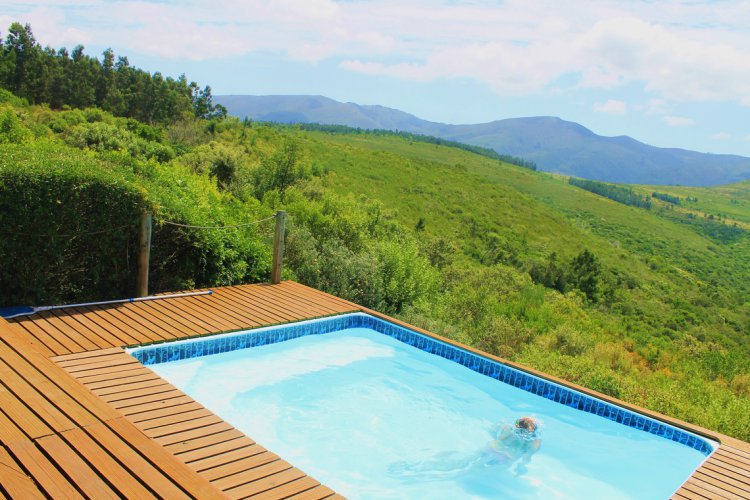 S.R.G is a self catering tented camp situated 60 km from PE in the Elands River Valley. We have 5 double sleepers situated on covered wooden decks looking onto the Groendal Mountain Range. We have 2 cabins, one that sleeps 4 and another dorm room style, tgat sleeps 8 in bunk beds The main centre has ablutions, kitchen, under cover dining/lounge area as well as braai and pool facilities.
We are an eco camp, and therefore completely off the grid! We have a full sized electric fridge/freezer, and lighting and a sound system in the centre, but there is no electricity at the tents! The intense peace and darkness affords you the most spectacular view of the night sky as it is displayed in all its glory! Each tent sites offers a private braai area with furniture and there are grids and tongs available. It really is the most convenient way to camp at the drop of a hat without all the hassle!!!
---
Type :
Backpackers, Budget, Bush Lodge, Camping, Farm Stays, Pet Friendly, Self-Catering, Student
MAP
Latitude : -33° 45' 12.71" S | Longitude : 25° 6' 19.62" E


Directions
Take the N2 turnoff St Albans and Blue Horizon Bay. Use the St Albans link road to get onto Cape Road. Just after the St Albans prison, turn right onto Rocklands Road. At the end of the Rocklands Road, cross the road between the convenience store and the fuel station to get on to Elandsriver road. We are exactly 25 km from the fuel station, and our entrance is on the right side of the road.


Image Gallery
Services
Groups Accepted
Yes
Max Group Size
25
Min Group Size
10
Group Description
Group bookings are welcome, and qualify for a discounted rate
Car Parking Available
Yes
Bus Parking Available
Yes
Pets Allowed
Yes
Day Visitors Allowed
Yes
Smoking Areas
Yes
Children Allowed
Yes
Children Facilities
Yes
Children Facility Detail
Playground
Mini bicycle track
Activity corner
Pool
Experience
Accommodation

Type
Backpackers
Budget
Bush Lodge
Camping
Farm Stays
Pet Friendly
Self-Catering
Student

---
Things to See and Do

Adventure & Sports
Adventure
Biking
BMX
Cross country
Cycling
Enduro
Equestrian
Hiking
Hiking Trails
Horse Riding
Motocross
Mountain Biking
Outdoor Activity
Snooker / Pool
Swimming
Team Building
Trail Running


Coastal & Beaches
Hiking Trails
Picnic


Wildlife & Nature
Bird Watching
Grass & Wetlands
Hiking Trails
Mountains
Nature
Parks & Gardens
Ridge / Kloof
Waterfall
Wilderness Trails

Utilities
Business
Conference facilities
---
Catering
Braai facilities
Breakfast provided at additional cost
Continental Breakfast
Gas cooking
Self-Catering
---
Financial
Cash
EFT
---
General
Children's padding pool
Children's playground
Communal cooking facility
Darts
Hiking trails
Nature walks
Owners do not live on premisis
Pool Table
Swimming pool -outdoor
---
Room Attributes
Non Smoking Rooms
---
Services
Showers
Toilets
Wash up area - communal