St. George's Park
Location
Eastern Cape > Port Elizabeth > Central


Description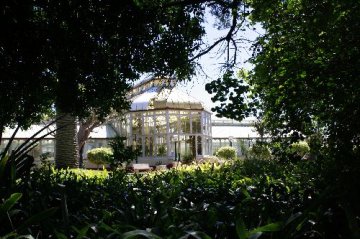 St George's Park, is the oldest park in Port Elizabeth and is situated within walking distance of the city centre.
Established in 1860, St George's Park is spread over 73 ha. of pristine wooded parkland and comprise extensive plant collections and specimen trees. The Park incorporates the world famous Port Elizabeth Cricket Club; the founder cricket club in South Africa. The oldest bowling green in South Africa (named "Founders Green"); Prince Alfred's Guard Memorial as well as the 1882 Victorian Pearson Conservatory which was built for the cultivation of exotic plants, water lilies and beautiful orchids, are also situated in the Park.

Other facilities include a children's playground. The park is also a favorite for jogging enthusiasts and, on the last Sunday of each month, comes alive with a large concentration of art and craft stalls for the monthly Art in the Park event.

In case of bad weather, Art in the Park takes place the following Sunday.

Art in the Park is open from 9:00 am - 2:00 pm and there are various stalls that sell arts and crafts - paintings, handmade garments and jewelry, garden and home ornaments, mosaics, wooden toys, dolls clothing, furniture, leatherwork, accessories for animals. stained glass and lead works. Fresh hot and cold foods and soft drinks, plants, dried fruit, nuts, honey, home made bottled preserves. Secondhand books, bric a brac, ornaments, household items, collectibles. Various live plants. Occasional dog shows, live music, and other attractions.
MAP
Latitude : -33° 57' 54.63" S | Longitude : 25° 36' 25.99" E


Image Gallery
Services
Experience
Things to See and Do

Adventure & Sports
Sport Clubs


App Guides
Top Attractions


Wildlife & Nature
Parks & Gardens