The German Club
Location
Eastern Cape > Port Elizabeth > Lorraine


Description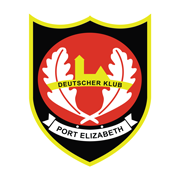 The German Club welcomes all members, business colleagues, friends and families.

The German Club is a social club and entertainment venue. It offers various entertainment options such as special themed evenings such as Sport extravaganza as well as a Skittle Alley.
The "Bauernstube" which is an in-house restaurant is open to the public. We offer an excellent menu with local and German cuisine. As part of the restaurant facility the Club has a comfortable private pub and also a private beer garden, in the open and partially covered with thatch. These facilities are only available to members and their guests.
The venue also has a conference hall for functions.
The "Bauernstube" our restaurant is open to the public. We offer an excellent menu with local and German cuisine. Look at our menu below to see what is cooking.
Phone 041 367 2791 to book a table.

The German Club hosts different events throughout the year for example "Special menu evenings", "Valentine's Day celebrations", "Dancing to live music" and much more.
See the" forthcoming events" below for more information.
We invite all members and guests to come and enjoy our Sport extravaganza!
For your convenience we have TV screens installed in our hall and bars, catering for sports events, for example Soccer, Formula I, Cricket and Rugby.

Organising any function, whether it is business or private, is a gigantic task and responsibility on your shoulders. At the German Club, we will help you to turn any function into an unforgettable experience for you and your guests alike.
Our Conference Hall
The conference hall is suited for weddings, 21st birthday celebrations, special parties, corporate functions etc. Musical evenings & specialty celebrations. Menus of your choice can be arranged. The hall is suited for live and disco music. It can be expanded to include a private pub and porch with a braai area. Waiters are also available for your special occasion.
Private Hall with Private Pub
An excellent venue for a private party, suitable for an intimate wedding, conference or club meeting. You can also book the use of the Skittle Alley. This hall can be decorated and arranged according to your specific requirements.
Functions that our venues can be used for, includes:
• Corporate functions
• Business breakfast and presentations
• Birthday celebrations
• Awards evenings
• Theme functions / parties
• Matric farewell functions
• Wedding receptions
• Team Building
• Conferences
We can arrange functions in any of our venues, depending on your choice and the number of guests.
Catering Arrangements:
Please select your menu choice from one of the menus listed below (click on menu to view), or you can design your own menu and discuss it with our chef, Thomas Fuchs, for pricing and advice.
Please note that for all Menus a 10% service charge will be added to your final account.
• Buffet Menus
• Served 3 course meals (Price to be advised by our chef after you've made your selection)
• Spitbraai / Braai
• Snack Menus
• Breakfast
• Skittle Alley
We have a list of preferred suppliers, should you require their services attending to the following:
• Music – Mark Nel 083 679 7875 – We can also organise a juke box for your function with a great variety of music for only R1500.
• Florist for Flower arrangements – Flowers by Angelika 082 739 7006 angelikasommer@telkomsa.net
• Draping and Decor – Lea Draping 082 327 2237 info@leadraping.co.za
• Equipment hire and setup – Extreme Hiring – 083 427 2036

Contact us to make a booking or if you require more information.