Umzantsi Afrika Tours & Safaris
Location
Eastern Cape > Port Elizabeth > Lorraine


Description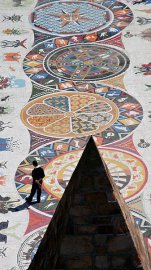 We are a Tour Operator based in Port Elizabeth and strive to provide interesting and informative tours to our visitors. We endeavour to show them the "hidden secrets of South Africa".
We specialize in "Tailor Made Tours" in English and German to fit your budget and interests.
We only use professional, CATHSSETA registered Tourist Guides with the necessary Drivers Permits.
We have a long list of a variety of day tours for in and around Port Elizabeth and also offer shuttles and transfers to and from the airport.
Visit our website-choose a tour and "Realise your African Dream".
MAP
Latitude : -33° 57' 12.30" S | Longitude : 25° 34' 14.09" E


Image Gallery
Experience
Things to See and Do

Adventure & Sports
Abseiling
Adventure Tours
Angling - Deep sea
Bird Hunting
Quad Biking


Arts & Culture
Arts & Craft Tours
City Tours
Cultural Tours
Township Tours


Coastal & Beaches
Coastal & Beaches Tours
Deep Sea Fishing
Whale Watching


Historical
City Tours
Historical Tours
Tours


Wildlife & Nature
Wildlife & Nature Tours

---
Travel and Tours

Road Transport
Chauffeur services
Shuttle Services


Tours
City Tours
Foreign Tour Operators
Guided Tours
Local tour Operators
Other
Step On Tour Guides
Tours
Tours & Packages
Township Tours
Wildlife Tours


Travel
Booking Agency

---
Visitor Services

Education Services
Other
Skills Training