Urban-Econ Development Economists
Location
Eastern Cape > Port Elizabeth > Mount Croix


Description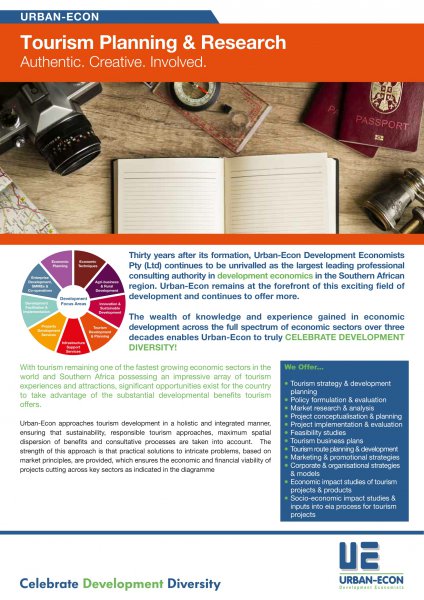 Market Research
Tourism Strategic Planning
Economic Impact Assessments
Thirty years since its formation, Urban-Econ Development Economists Pty (Ltd) continues to be at the forefront of development economics. The firm offers professional consulting services in a range of sectors and fields of expertise including Strategic Development Planning, Policy Formulation, Feasibility Studies, Business Plans, Market Research and of course Tourism Research and Development. Clients partnering with Urban-Econ, are guided to find expert driven solutions to pressing development challenges. Solutions which identify new areas of economic growth and unlock the latent potential of the area in a sustainable and strategic manner.

Urban-Econ Development Economists' Eastern Cape branch is situated in the vibrant Nelson Mandela Bay Metro. Our mission is to provide clients with innovative research that assists in optimising capital, human and environmental resources. Research that informs future decision making and contributes to the creation of sustainable policies and programmes. The firm prides itself on its commitment to its customers, innovative responses to challenges and the quality of its analysis.

Tourism industry research is led by a team of experienced tourism researchers and practitioners. The firm offers specialist tourism studies in the following fields:
· Tourism strategy and development planning
· Policy formulation and evaluation
· Market research and analysis
· Project conceptualisation and planning
· Project implementation and evaluation
· Feasibility studies
· Tourism business plans
· Tourism route planning and development
· Marketing and promotional strategies
· Corporate and organisational strategies
· Economic and socio-economic impact studies of tourism projects and events

Services offered by Urban-Econ to the tourism industry include public talks and presentations by leading authorities in tourism. The presentation series is entitled 'Tourism Talk' and is held at regular intervals. Secondly the firm produces a Tourism Statistical Publication on National Accommodation Trends. Please contact Urban-Econ for more information.
Image Gallery
Experience
Business and Conferencing

Business
Marketing
Tourism

Languages
South African
Afrikaans
English
Tsonga
Xhosa
Zulu