Home
>
The Nelson Mandela Bay Pass
>
Validity & Types of passes
Validity & Types of passes
Validity & Types of passes
There are two types of Nelson Mandela Bay Visitors Passes (packages) namely the 5 in 1 pass as well as unlimited access passes. The pass package you decide to buy will be loaded onto a smartcard and will give you access according to the type of pass you buy.
The 5 in 1 NMB Pass
The 5 in 1 pass is valid for 3 months and limits you to any 5 of the offers.
The 5 in 1 pass includes any five of the attractions and activities advertised and can be used on any day within the 3 month period. You also qualify for the shopping and transport discounts available on the pass for the 3 month duration of the pass validity.
The pass expires 3 months from the date purchased or as soon as 5 attraction visits have been recorded.
NMB Unlimited Itinerary Passes
The unlimited itinerary passes are valid for 1 day, 2 days, 3 days, and 7 days depending on the period you want to purchase it for.
These passes are bought for a time frame and gives you an unlimited amount of attractions to do in the timeframe you have purchased it for. Each offer is limited to one entry or use per attraction per pass.
The Nelson Mandela Bay unlimited itinerary Passes are valid for use on consecutive days only. At the end of your validity period or when you have visited all the attractions, the pass will expire and will no longer allow access to attractions. Your pass will cease working at the end of the last day dependant on the number of days purchased, regardless of how often you have used it in between.

The smart card records when and where you first use your Nelson Mandela Bay Pass, as well as how long the pass will remain valid for. This means that regardless of what start date you give when you buy the pass, your Nelson Mandela Bay Pass is activated the moment that you first use it at an attraction or activity provider.
It is important to note that a 'day' is based on a calendar day, so should you first use your pass at 5 pm on Wednesday, Wednesday is counted as day one of your pass usage.

Please note the Nelson Mandela Bay Pass offers are valid for a specific period based on the periods negotiated with each product. All passes bought are valid for use for 3 months from date of purchase / issue and have to be used within this period; however this can be extended if agreed so by Nelson Mandela Bay Tourism.
Special passes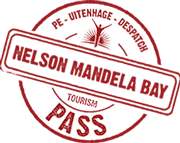 NMBT has other custom made passes namely:
Ibahayi Sunshine Saunter Pass - read more here: Ibhayi Sunshine Saunter Pass
Special school group passes at reduced rates. read more here: School Groups
Contact pass@nmbt.co.za for more information.