Home
>
IRONMAN 70.3 World Championships
>
MEDICAL INFORMATION
MEDICAL INFORMATION
The Eastern Cape is one of the prime malaria free safari areas of South Africa. The Addo Elephant Park with its large and relaxed herds of magnificent African elephants is joined by several international prize-winning private game reserve. All offer Big Five safaris, orientated towards families.
There are numerous excellent private hospitals and clinics throughout the city and region, including 3 state hospitals, 4 provincial hospitals, 4 private hospitals, 3 day hospitals, and 52 Eastern Cape Department of Health clinics.
Ebola Free Country
There has been no recorded case of the current Ebola outbreak in South Africa. The next thing you need to now is that geographically, despite being on the same continent, South Africa is much further away from West Africa than Spain, London, Paris and even Brazil. While it's true that there are no oceans dividing each country within the continent, much like Europe, Asia and the United States, Africa is comprised of many different countries, cities, towns and areas. It is divided into four major quadrants - North, South, East and West. The massive size of the continent (it is larger than the US, Japan, China, India and Europe combined) means that countries in one quadrant are often situated vast distances from countries in another quadrant.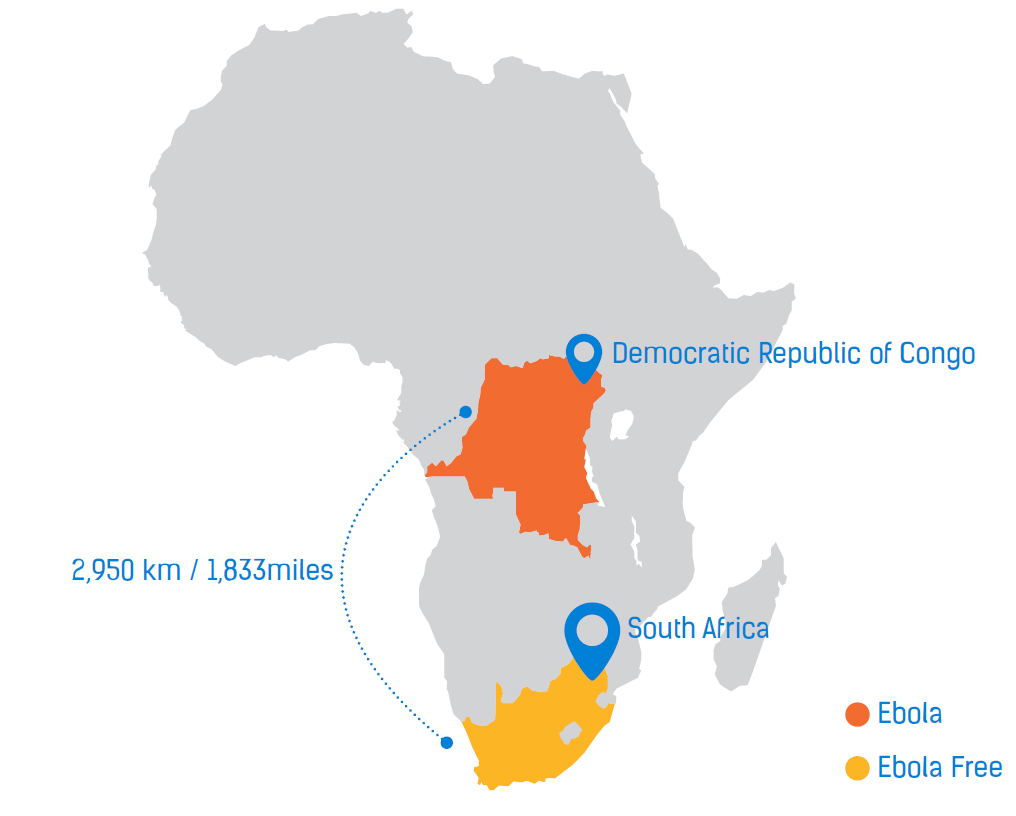 MEDICAL CONTACTS
District Surgeon: Dora Nginza Hospital, Nurses' Residence, Uitenhage Road. Tel: + 27 (0) 41 464 0600.
Hospitals:
Dora Nginza Hospital - Spondo Rd, Zwide, tel: +27 (0) 41 406 4111
Netcare Greenacres Hospital - Ring Road, Greenacres, tel: + 27 (0) 41 390 7298
Livingstone Hospital - Standford Road, Korsten, tel: +27 (0) 41 405 9111
Mercantile Private Hospital - Durban Road, Korsten, tel: +27 (0) 41 401 2700
Provincial Hospital - Gipson Street, Mount Croix, tel: +27 (0) 41 392 3911
St George's Hospital - Park Drive, Central, tel: +27 (0) 41 392 6111
Medical Services: Visitors are responsible for their own medical needs and should obtain medical insurance prior to their arrival. Doctors are listed under "Medical" in the Telephone Directory.
National Renal Care: Dialysis, (Peritoneal, Chronic Haemodialysis, Acute Haemodialysis - Hospitals). 223 Cape Rd, Greenacres, tel: +27 (0) 41 374 5562 / 374 9688, 24hr call phone +27 (0) 79 667 2478 / www.nrc.co.za

Travel Clinic: Netcare Travel Clinic makes health facilities more accessible to travellers. The Clinic provides travelers with information, advice and health vaccination service. Medicross Healthcare Group, 17 Ave., Walmer, Tel: +27 41 395 7512 / www.travelclinic.co.za