Netcare Greenacres Hospital
Location
Eastern Cape > Port Elizabeth > Greenacres


Description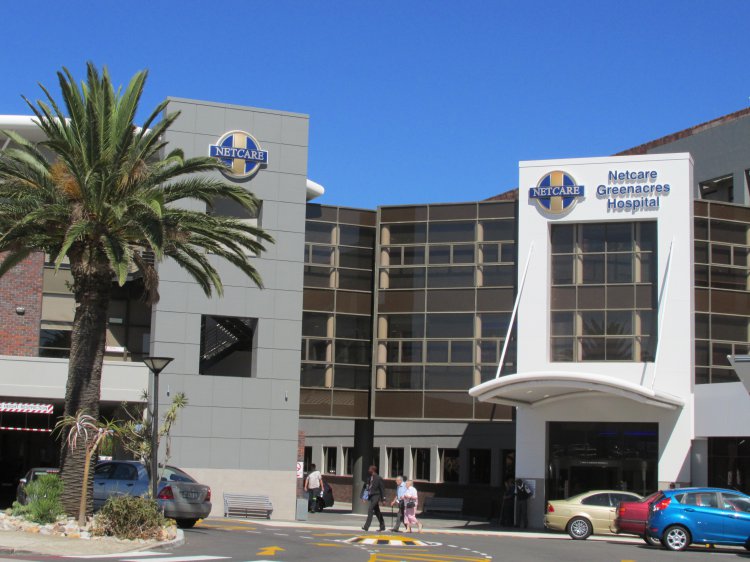 HOSPITAL SERVICES

Embracing the Future

Netcare Greenacres Hospital is owned and managed by Netcare Limited. The management team and staff at Netcare Greenacres Hospital take pride in providing a multi-disciplinary healthcare service and are dedicated and committed to providing exceptional customer service and compassionate care to patients and their families within the Eastern Cape community.

Located in the heart of Port Elizabeth's suburbs, Netcare Greenacres Hospital services the communities of Port Elizabeth and the surrounding areas which they have been doing so for more than 30 years. Our highly qualified nurses and doctors, utilizing state-of-the-art technology and equipment, provide the most advanced treatment currently available.
FACILITIES

• 340 beds
• 24-Hour Emergency Department
• 14 Operating Theatres
• 16-Bed Intensive Care Unit
• 7-Bed Cardio-thoracic Intensive Care Unit
• 7-Bed Neo Natal Intensive Care Unit
• 12-Bed Coronary Care Unit
• 16-Bed High Care and Neuro High Care Ward
• 25-Bed Paediatric Ward
• 15-Bed Maternity Ward
• Two Cardiac Catheterisation Laboratories
• Medical & Surgical Wards
• Day Clinic / Gastroenterology Unit
• Health Edu-Care Centre
• Netcare Greenacres Hospital Pharmacy

Ancillary services include, but are not limited to:

• Radiology
• Pathology
• Physiotherapy
• Renal care
• Speech therapy
• Dietetics

DISCIPLINES

Netcare Greenacres Hospital's professional resident and sessional specialists provide exceptional standards of medical care in the following fields of medicine:

• Bariatric Surgery
• Cardiology (including Paediatric Cardiology & Electrophysiology)
• Cardio-thoracic Surgery
• Ear, Nose and Throat Surgery
• Endocrinology
• Gastroenterology
• General Surgery
• Gynaecology and Obstetrics
• Maxillo-facial and Oral Surgery
• Neurology & Neurosurgery
• Ophthalmology
• Orthopaedic Surgery
• Paediatrics
• Plastic and Reconstructive Surgery
• Rheumatology
• Urology
• Vascular Surgery

SPECIALISED FACILITIES

Emergency Department – Tel: 041 390 7120/6

Our Emergency Department provides a 24-hour emergency service. It has a 4-bed resuscitation room, a 6-bed cubicle area and two procedure rooms. The Emergency Department is also supported by the Netcare 911 Medical Emergency Service which provides immediate medical assistance and transport to our Emergency Department.

Cardiac Catheterisation Laboratories (Cath Labs)

Our two Cardiac Catheterisation Laboratories provides all the features of a modern catheterization laboratory. We offer diagnostic and interventional cardiology, including but not limited to coronary angioplasty, coronary stenting, advanced pacemaker implantation technology, as well as specialised paediatric cardiology and electrophysiology.

High Care and Neuro High Care Ward

The highly qualified staff of our 16-bed High Care and Neuro High Care Ward strive to provide a safe and therapeutic environment for our patients, achieving high quality and compassionate nursing care for both patients and their relatives or friends.

Intensive Care and Coronary Care Units

We have a 16-bed Intensive Care Unit, including six isolation cubicles. In addition to this, we have a dedicated 7-bed Cardio-thoracic Unit complimenting our 12-bed Coronary Care Unit (CCU). These units are all equipped with advanced technology, including highly trained and skilled nursing staff to deal with any medical and / or cardiac emergency.

OTHER FACILITIES

Health Edu-Care Centre – Tel: 041 390 7308

Our Health Edu-Care Centre provides a pre-assessment before admission of patients, as well as pre- and post-operative information before surgical procedures and operations.

Netcare Greenacres Hospital Pharmacy – Tel: 041 390 7278

Netcare Greenacres Hospital Pharmacy caters for all your dispensing requirements. Our in-house pharmacy is open to the public and is contracted with most medical aids and also offers monthly chronic medication and a free delivery service to immediate surrounding suburbs.
The pharmacy is open from 08h00 - 21h00 from Mondays to Saturdays and from 09h00 - 19h00 on Sundays and public holidays.

ANCILLARY SERVICES

Pathology

The Pathology Laboratories are situated within the hospital and offer a 24-hour service. They are Ampath Laboratory (Tel: 041 399 9000) and Pathcare Laboratory (Tel: 041 363 0594).

Physiotherapy

Qualified physiotherapists deal with a wide range of problems including spinal injuries, back and neck pain, headaches, sports injuries, muscle strains, joint strains, occupational injuries and post-operative rehabilitation.

Radiology

Bayradiology (Tel: 041 395 3300) provides comprehensive services, including ultrasound, MRI, CT scan, bone densitometry and angiography.

GENERAL INFORMATION

Coffee Shop

Wiesenhof Coffee Shop (Tel: 041 390 7103) is located at the front entrance of the hospital and serves a variety of snacks, light meals, refreshments, newspapers, magazines and gifts.

Parking

24-hour parking facilities are available on the grounds of Netcare Greenacres Hospital.

Security

Netcare Greenacres Hospital endeavours to provide a secure environment at all times for our patients, their families and visitors, as well as our doctors and staff. Our facility is monitored by CCTV (closed circuit television) and security personnel are situated at strategic positions throughout the hospital.

Smoking

Netcare Greenacres Hospital has a clean-air policy. No smoking is allowed in the facility.

Spiritual support

We have a prayer room available on the first floor.



FOR comments, complaints or suggestions please contact:
www.netcare.co.za 0860 | NETCARE (0860 638 2273)
or e-mail us at customercaregreenacres@netcare.co.za
MAP
Latitude : -33° 57' 7.88" S | Longitude : 25° 34' 47.06" E


Image Gallery
Experience
Business and Conferencing

Business
Emergency
Health
Hospitals
Medical Services
Service

---
Visitor Services

Emergency Services
Ambulances
Cosmetic Surgery
Hospitals
Pharmacies
Specialists


Medical Services
Hospital

Utilities