Home
>
Attractions - Things to See and Do
>
Coastal & Beaches
Coastal & Beaches


Coastal & Beaches
Algoa Bay, the coastal region of Nelson Mandela Bay, boasts 40 km of magnificent golden beaches. With its perfect combination of warm water, calm sea and fair breezes, it is one of the best sailing venues in the world and a Mecca for all beach and water sport enthusiasts. Water temperatures vary between 18 and 21 degrees Celsius during summer and 14 to 19 degrees Celsius during winter. Rest assured, swimming beaches are patrolled by fully trained professional lifeguards during the summer season, which means swimmers and sunbathers can safely enjoy their beach holiday.
South Africa is the first country outside of Europe to win Blue Flag accreditation for its beaches. The Blue Flag is an international award given only to those beaches that meet excellence in safety, amenities, cleanliness and environmental standards.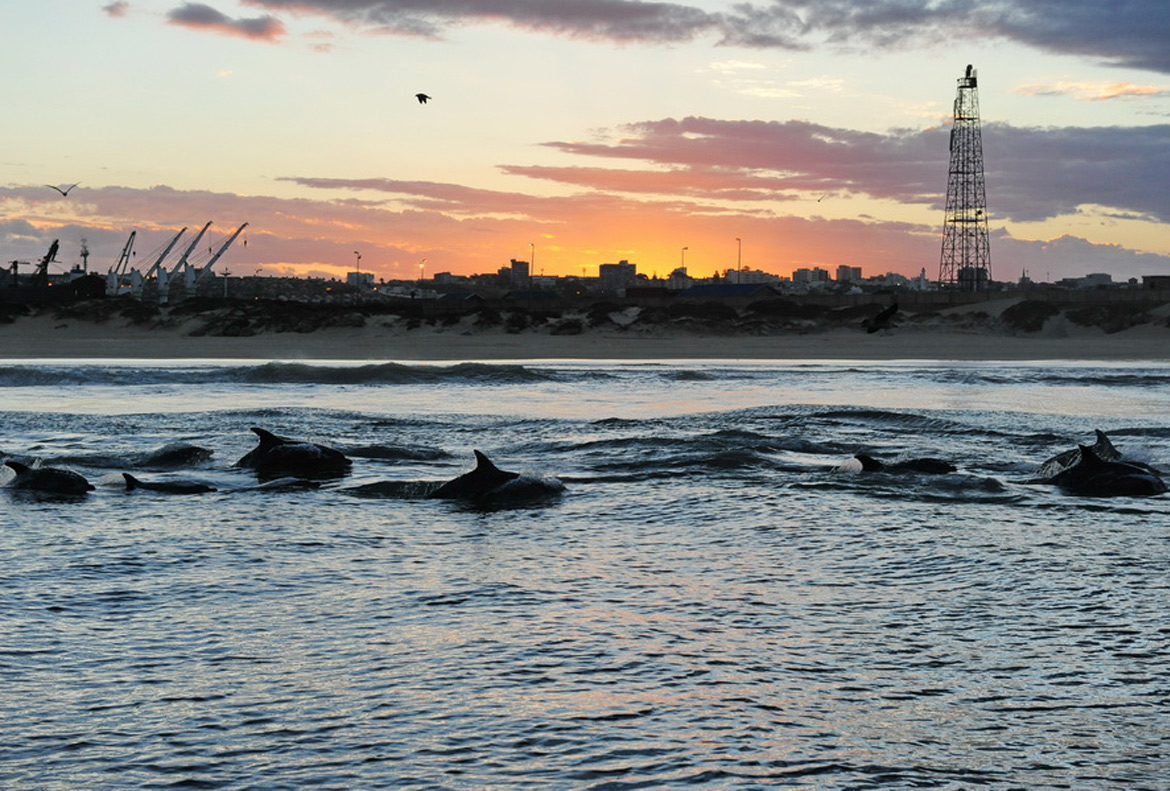 King's Beach is a magnificent 1, 6 km wide expanse of golden sand extending from the harbour wall to Humewood. The beach is ideal for swimming, body surfing, sunbathing and long beach walks, and includes facilities such as supertubes for the adventurous, a snack bar, parking area, change-rooms and a lifesavers' centre. Sunday's come alive with the Beach Front Traders, skate boarding at the skate park and picnicing in the newly upgraded park.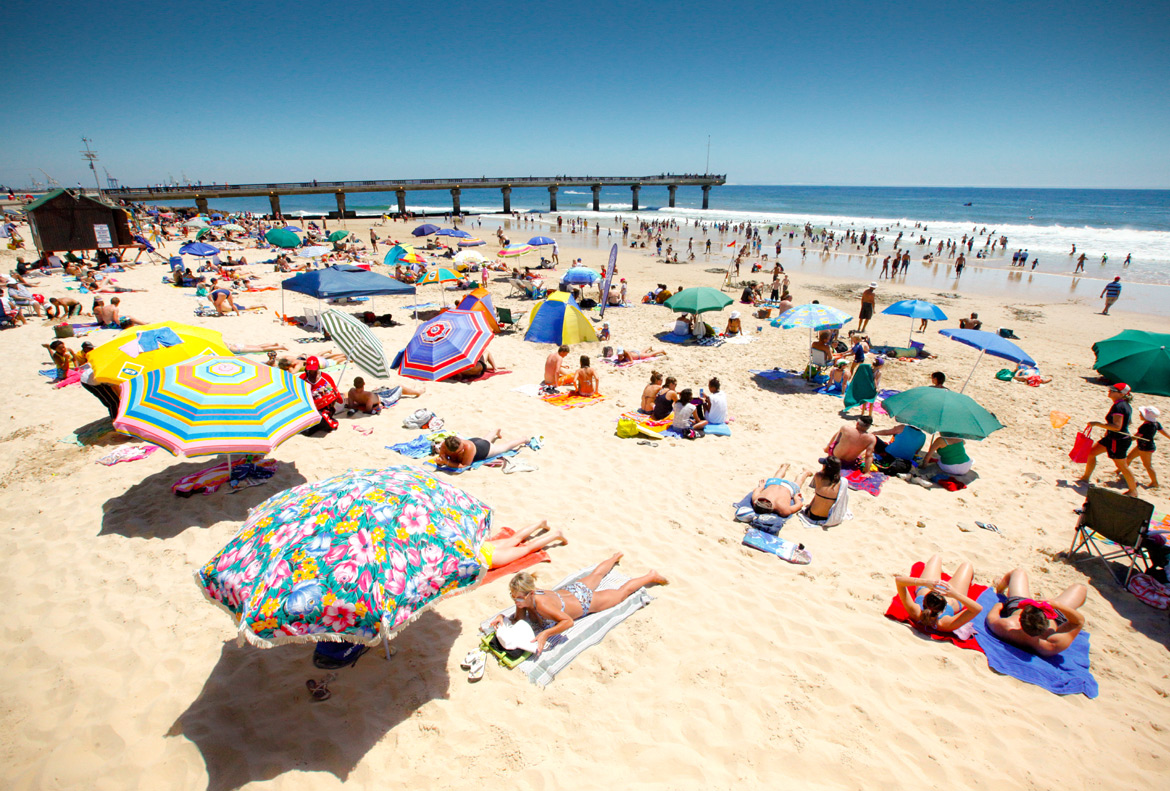 The popular Hobie Beach, in the vicinity of the Shark Rock Pier and the Boardwalk, is the venue for the annual "Splash Festival", as well as the Beach Volleyball and World Boardsailing Championships. The beach, a favourite for swimming, sunbathing and body surfing, also offers sheltered rock pools with interesting inter-tidal sea life. Pollock Beach, or the "Pipe" as it is known locally, is favoured by surfers because of its excellent waves and surfing opportunities.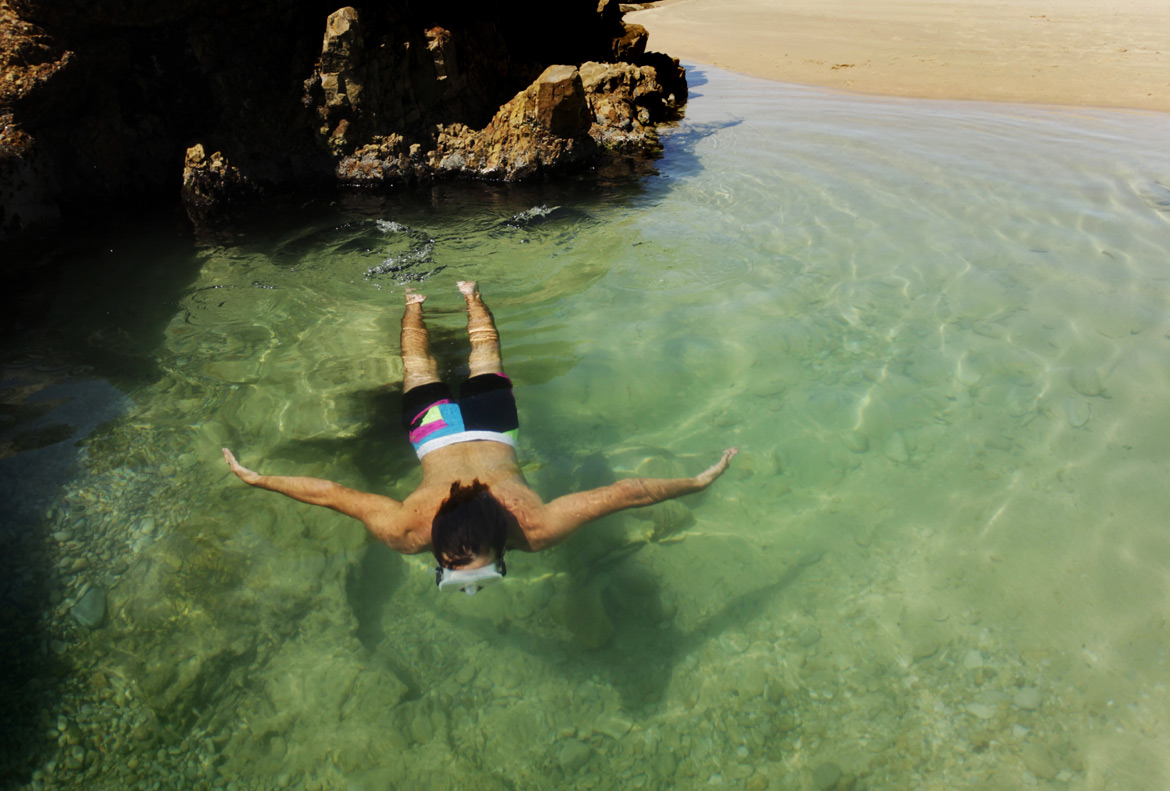 As one travels along Marine Drive to the picturesque seaside village of Schoenmakerskop, 24km away, there are picnic spots, coves, rock pools and holiday resorts located along the rocky section of the shore. Pods of dolphins have frequently been sighted in the area. Sardinia Bay, situated between Schoenmakerskop and Sea View, is accessed by travelling along Sardinia Bay Road.
This popular beach has picnic facilities and is regarded as one of the best walking and horse riding beaches with miles of unspoiled coastline. Fishing is not permitted as the coast has been declared a Marine Reserve, but snorkelling and scuba diving are allowed and prove to be quite popular due to its abundance of sealife. Sardinia Bay is also the starting point of the very popular eight-kilometre Sacramento hiking trail.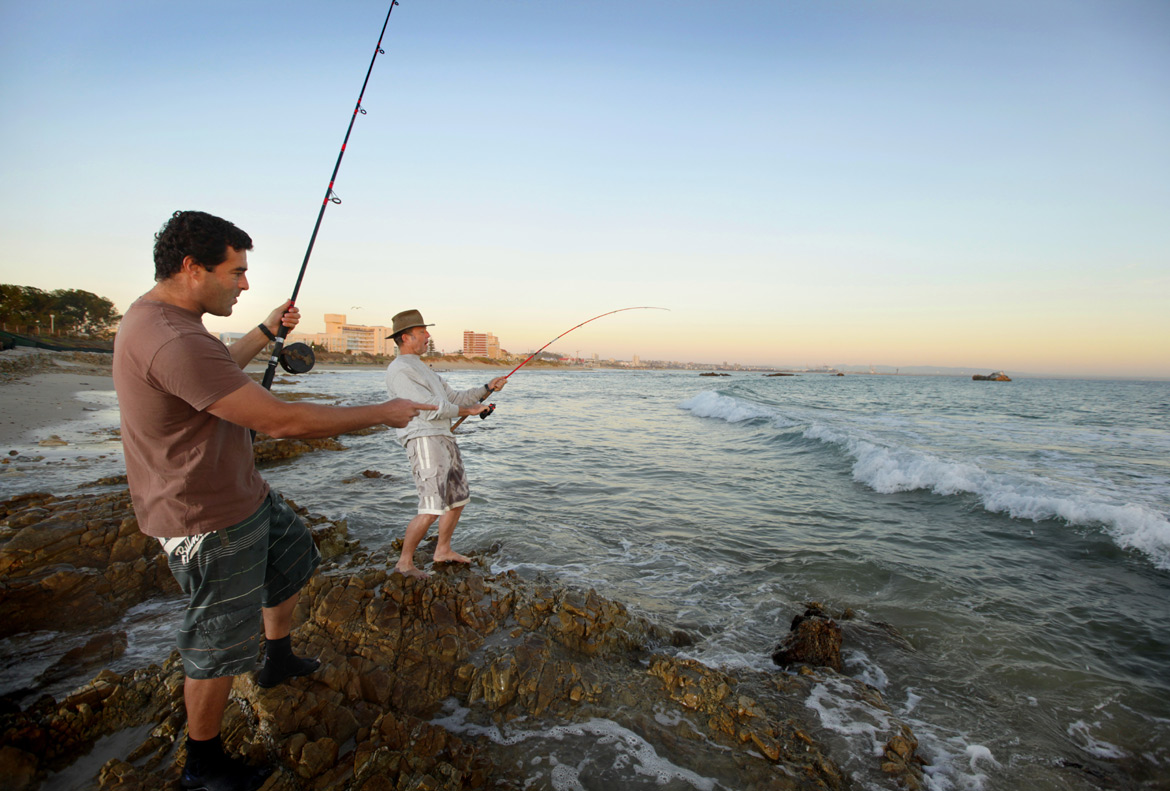 The "Northern beaches" is the term used for a vast stretch of sand dunes and shores which provide superb angling and swimming opportunities. The area includes the following: New Brighton Beach, a large unspoilt beach located just before Bluewater Bay. It has a promenade with cafeteria and children's' playground, change rooms, lifesavers' tower, and offers good swimming and angling opportunities.
Bluewater Bay has a magnificent stretch of beach. Facilities at Bluewater Bay include a car park, childrens' playground and ablution facilities, good swimming, fishing and surfing opportunities.
There are two windsurfing options in the Bay, namely Flat Water River Windsurfing and "Wild Side" Windsurfing. Dufour Park, situated on the Swartkops River, is the ideal site for flat-water conditions. There are also excellent conditions for wave sailing at the Swartkops River Mouth, while the South West wind creates side shore starboard sailing opportunities.
Hobie Beach, situated just off Marine Drive, is excellent for both long-board and short-board sailing. Boardsailers must, however, ensure that they do not sail within the bathing area. When the South East wind blows, a large shore break is created. When the South West wind blows, the bay is generally calm and flat, although there is usually a small to moderate shore break. Millers Point, opposite the Humewood Golf Club (along Marine Drive), is excellent for side / onshore windsurfing. Boardsailers should, however, beware of the rocks at low tide.
Noordhoek, situated approximately eight kilometres from Hobie Beach, (Marine Drive), is totally exposed to ocean swells and is described as "an awesome" site by experienced boardsailers. This is for "hard core" windsurfers who appreciate excellent reef breaks and cross-shore conditions. It is important for boardsailers to check out the tides before going windsurfing.
Apart from the fact that the Bay and surrounds offer some of best boardsailing conditions in the world, the area is also excellent for bay and river sailing, as well as top quality wave riding and jumping recommended for experts only!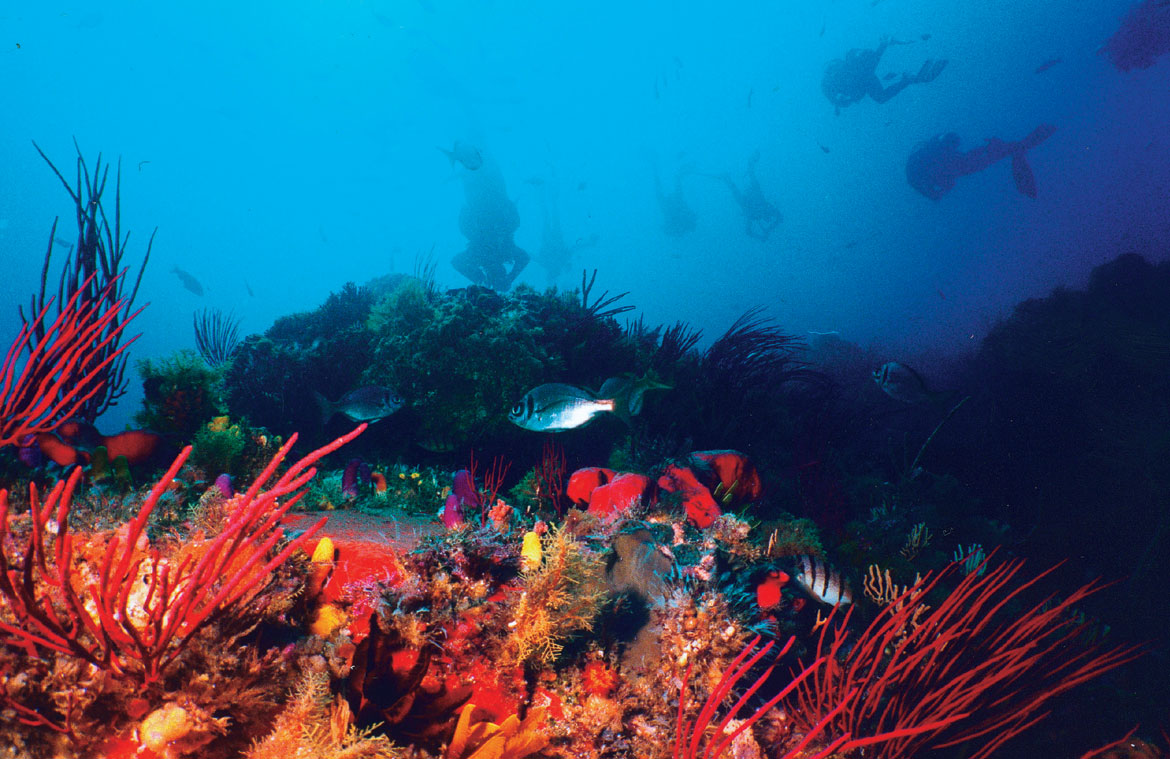 The diving sites in Nelson Mandela Bay are of world-class quality with beautiful reefs, shipwrecks, a variety of fish and colourful soft coral species. The protected warm water of Algoa Bay provide scuba divers with the most exciting and diverse range of dive sites in the country. Reefs and pinnacles range from depths of ten to thirty metres, especially round the Cape Recife area, and visibility of up to 30 meters has been recorded.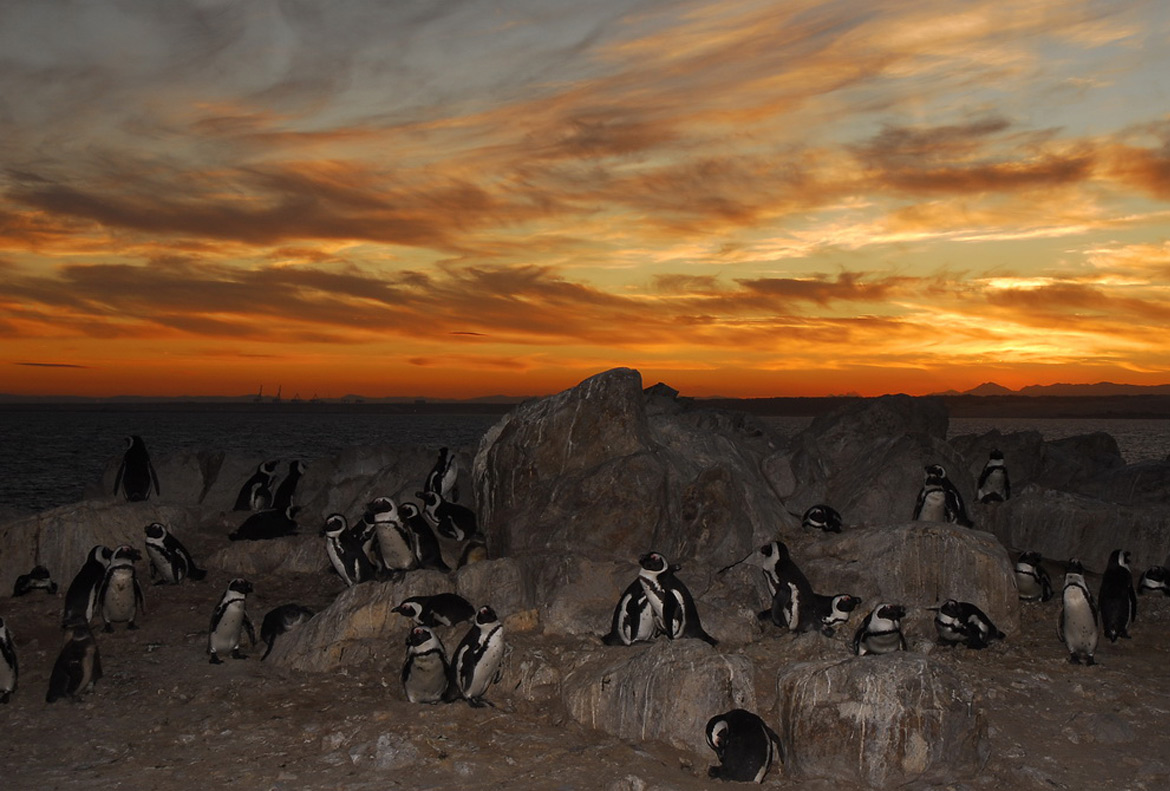 Sea-Island, Cruises and Sundowner Cruises are on offer in Algoa Bay which enables one to see Cape Fur Seals, numerous sea birds, numerous shipwrecks and sometimes even pods of dolphins or whales. If you prefer to lounge by the pool and soak up the sun while sipping on a cool drink, be sure to visit the Mc Arthur Swimpool Centre for a day of relaxing and sunshine.
Nelson Mandela Bay's coast plays host to the annual Sardine Run which attracts a wide variety of predator fish and mammals.